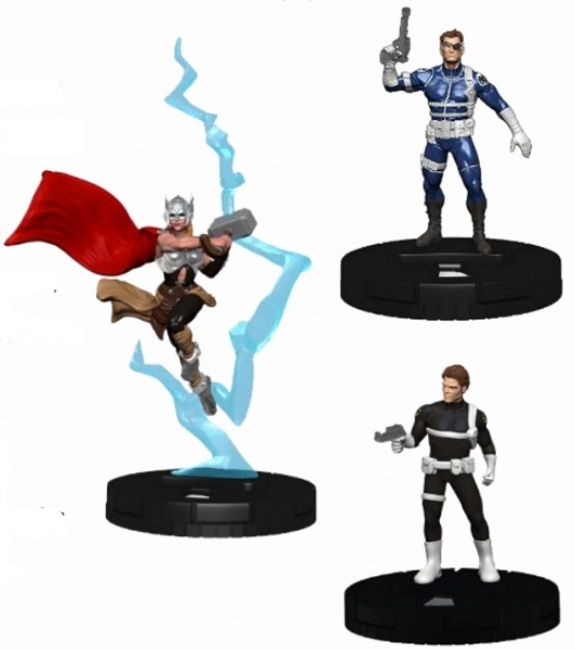 WizKids has announced
Marvel HeroClix: Nick Fury, Agent of S.H.I.E.L.D.
for July release. The SKUs will include
Boosters,
a
Fast Forces Pack,
a
Dice & Token Pack,
and release day organized play kit.
The 86-figure
Booster
set includes past and current agents of the international spy organization S.H.I.E.L.D. and agents of Hydra. It includes sub-themes of Howling Commandos, Invaders, and iconic Marvel heroes who were enlisted as agents with the organization. Also included are randomly inserted 3D Objects and a Base/Card that assemble to create Tony Stark's ultimate Hulk-deterrent--the Hulkbuster Mk II Armor. The set also features 15 different ID Cards randomly inserted into boosters to call heroes (and agents) into battle.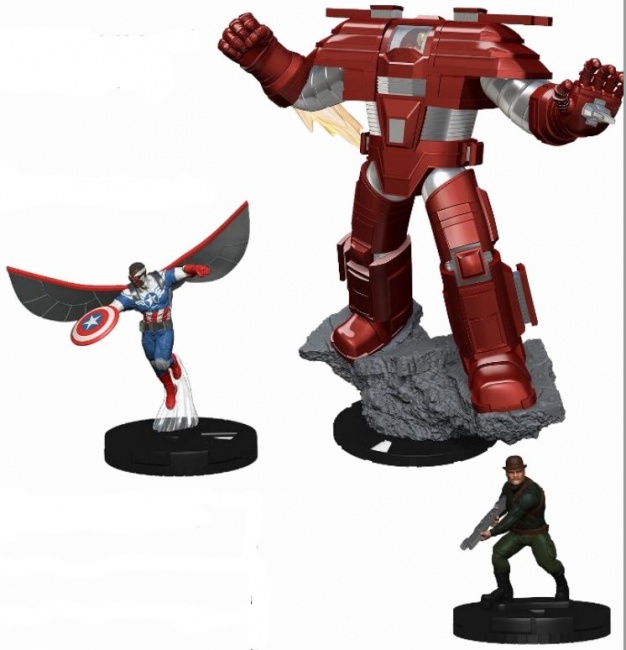 The rarity breakdown is 24 Common figures (plus one Prime figure), 18 Uncommon figures (plus one Prime), 16 Rare figures (plus one Prime), 13 Super Rare figures (plus one Prime), 5 Chase figures, and the 5 unique 3D Objects and Base/Card for the Hulkbuster. MSRP is $12.99 for each booster.
The
Fast Forces Pack
will include six figures including Nick Fury, Phil Coulson Agents May, Fitz, Simmons and Skye, a rules sheet and an exclusive 3D bystander (Fitz's Helper Monkey). MSRP is $16.99.
The
Dice & Token Pack
will contain two custom dice featuring the S.H.I.E.L.D. logo, as well as six action tokens featuring fan-favorite S.H.I.E.L.D. agents and heroes: Nick Fury, Agent Coulson, Steve Rogers, Black Widow, Indestructible Hulk, and the Winter Solider. MSRP is $9.99.
The release day
OP Kit
includes three limited edition Winter Soldier figures for prizes, five 2-sided 24" x 36" HeroClix maps, a S.H.I.E.L.D. Secret Bunker, a Hydra Island, and an instruction sheet. Stores are limited in the number of OP Kits they may order from their distributor based on cumulative cases of product ordered, with no more than 3 OP Kits per retail store.
This set will follow the release of the
Marvel HeroClix: Age of Ultron Tournament Boosters
in June (see "
'Age of Ultron HeroClix' Tournament Boosters
"
).