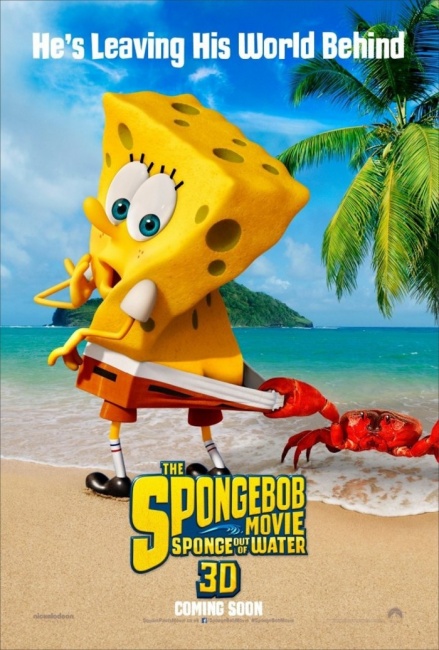 The second movie based on Nickelodeon's
SpongeBob SquarePants
property,
The SpongeBob Movie: Sponge Out of Water
, wiped away all expectations with a potent $56 million debut that finally dethroned Clint Eastwood's
American Sniper
, which dominated the box office during January. The
SpongeBob
movie's strong debut helped the box office stay even with a very strong first weekend in February last year, when the $69 million debut of
The LEGO Movie
led to a 50% gain over the same weekend in 2013.
Since the first quarter of 2014 was very strong, the fact that so far 2015 is doing even better augurs well for the rest of the year. January domestic box office revenue topped $1 billion for the first time since 2010, and
American Sniper
accounted for 24% of that total by itself.
The first
SpongeBob
movie, 1999's
The SpongeBob SquarePants Movie
debuted with $32 million, which would be at least $43 million today, so, even accounting for inflation, the debut of the new
SpongeBob
movie has demonstrated that there is lots of life left in the property. When Paramount lost releasing rights for Dreamworks Animation films to Fox last year, the studio made a deal with Nickelodeon, but few predicted that the Nick deal would pay so quickly and so handsomely. The new movie, which was directed by
SpongeBob
TV series writer Paul Tibbitt, has revivified the
SpongeBob
property by demonstrating its multi-generational appeal. Fifty percent of the kid-targeting
Sponge Out of Water's
audience was over 18, and forty percent was over 25. Males made up 57% of the opening weekend crowd, and they gave the movie an OK "B" CinemaScore. The successes of the new
SpongeBob
movie and last year's
LEGO Movie
have marked February as a great time to debut animated features, so expect this trend to continue in the coming years.
The news was not nearly as good for the Wachowski's outer space epic
Jupiter Ascending
, which was supposed to debut last summer, but was rescheduled due to "special effects" problems. Critics have lambasted the film, which currently has a rating of just 22% fresh on review aggregator Rotten Tomatoes. While
Jupiter Ascending
did manage to earn $19 million, the film's $175 million budget required a much stronger debut to have a chance to break even. In comparison with
Jupiter Ascending's
$19 million bow, other big budget "bombs"
Jack the Giant Slayer
($27 million),
Battleship
($28 million), and
John Carter
($30) all debuted with a lot more strength. This latest Wachowski movie attracted a predominantly male (57%) audience that was definitely older with 82% over 25 years old—
The Matrix
obviously doesn't mean very much to the under 25 generation.
Jupiter Ascending
did 52% of its domestic total from 3-D screenings, so there is some hope that the movie will make up some ground overseas, but its stinky "B-" CinemaScore means that a domestic revival is unlikely.
Weekend Box Office (Studio Estimates): February 6-8, 2015

Film

Weekend Gross

Screens

Avg./Screen

Total Gross

Wk#

1

The SpongeBob Movie: Sponge Out of Water

$56,000,000

3,641

$15,380

$56,000,000

1

2

American Sniper

$24,165,000

3,885

$6,220

$282,265,000

7

3

Jupiter Ascending

$19,000,000

3,181

$5,973

$19,000,000

1

4

Seventh Son

$7,101,000

2,875

$2,470

$7,101,000

1

5

Paddington

$5,365,000

2,888

$1,858

$57,268,000

4

6

Project Almanac

$5,330,000

2,900

$1,838

$15,759,000

2

7

The Imitation Game

$4,881,000

1,963

$2,487

$74,740,000

11

8

The Wedding Ringer

$4,800,000

2,138

$2,245

$55,100,000

4

9

Black or White

$4,520,000

1,823

$2,479

$13,123,000

2

10

The Boy Next Door

$4,101,000

2,193

$1,870

$30,850,000

3

This weekend's other major new release, Legendary Pictures' The Seventh Son, laid an even bigger egg at the box office. The Lionsgate release earned just $7.1 million with a poor $2,470 per venue average. The Jeff Bridges/Julianne Moore fantasy was originally a Warner Bros. project, but when Legendary moved to Universal it took The Seventh Son with it, sparing Warners, which produced Jupiter Ascending, the shame of releasing yet another bomb. The Seventh Son, which cost around $100 million to produce, has already made $83.6 million overseas, where it has been showing since December, but given the small share of the overseas take that the studios receive, it appears dubious that this movie, which is notable mostly for Jeff Bridges' wild overacting, will ever break even. A pitiful 10% rating on Rotten Tomatoes and a lousy "B-" CinemaScore indicate that The Seventh Son should fade quickly.

The major holdover news concerns Eastwood's American Sniper, which dropped just 21.2% as it added $24.2 million, bringing its domestic total to $282.3 million. Eastwood's film rebounded nicely from a somewhat slow Super Bowl weekend, and there is little doubt that American Sniper, which surpassed Captain America: The Winter Soldier this weekend, will end up being the #1 box office film of 2014 (though it earned almost all of its money in 2015). Will it be able to catch Mel Gibson's The Passion of the Christ, which at $370 million is the highest-grossing R-rated movie ever in the domestic market? That will likely depend on the Oscars—if American Sniper gets some major awards it could end up passing Gibson's Biblical epic (though not in inflation-adjusted dollars).

In spite of the SpongeBob movie's big debut, the top ten's other major family-targeting release Paddington did well, dropping just 35% and adding $5.4 million, which brings its domestic total to $57.3 million. The Weinstein's other major current release, the Oscar hopeful Alan Turing biopic The Imitation Game, earned $4.8 million, which brings its domestic total to $74.8 million, the highest among all Oscar hopefuls except for American Sniper.

Be sure to check back here next week as the Mark Millar comic book-based old school spy drama Kingsman debuts along with the film adaptation of the adult erotic novel Fifty Shades of Grey.

--Tom Flinn