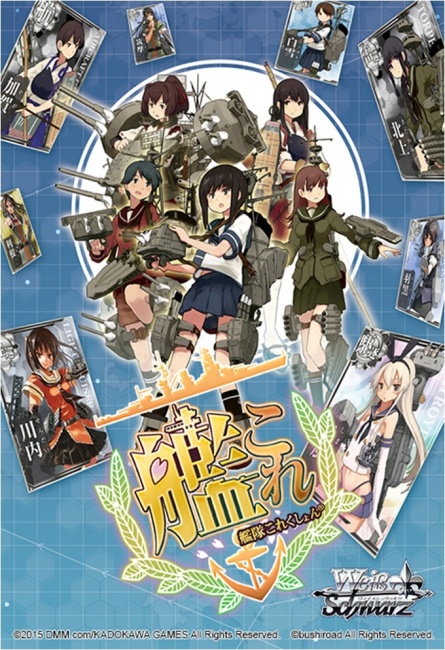 Bushiroad announced plans to expand its support for the
Weiss Schwarz TCG
in 2015, and shared additional details on upcoming releases including
KanColle
and
Attack on Titan.
Bushiroad announced its release schedule for
Weiss Schwarz
and its other card games for the first half of 2015 in December (see "
Bushiroad Reveals First Half of 2015 Schedule
"), and announced
Attack on Titan
would be joining the game later in the year (see "
'Weiss Schwarz: Attack on Titan'
").
The
Attack on Titan Trial Deck
will release on July 3, in time for Anime Expo 2015, with the
Booster Pack
to follow. This is the first English
Weiss Schwarz
release that will premiere before the Japanese edition.
"
Weiss Schwarz
is seeing a steady rise due to strategic choices in anime/game titles," said Bushiroad CEO Takaaki Kidani. "Bushiroad studies what is popular with anime fans in the Western Hemisphere, which influences the chosen titles."
Bushiroad plans to expand its support for the game this year by doing more launch events, and by running events tied to new demo decks, which will be released for
Weiss Schwarz
for the first time. Bushiroad will also run promo videos for the card game on the official streaming channels for the corresponding anime, including YouTube, Hulu, and Crunchyroll.
Bushiroad will release an English Edition set for the popular web browser game
KanColle
on May 15. The release will include
Trial Deck
and
Booster Pack
products.
KanColle
is set in a world where humanity has lost control of the oceans to the "deep sea fleet," and the Kanmusu (girls who possess the spirit of WWII era Japanese warships) must train and battle against fleets of unknown warships.
The
Trial Deck
will include 10 exclusive trial-deck only cards (5 types). Five types of exclusive RRR Foil cards as well as Climax cards drawn by popular illustrators are included in this set. The pre-constructed deck will include 50 cards (same content for each deck), as well as a deck manual, playbook, playmat and rule sheet. The decks are packed six to a display, with eight displays per carton. The English edition does not include gold/silver campaign coupons.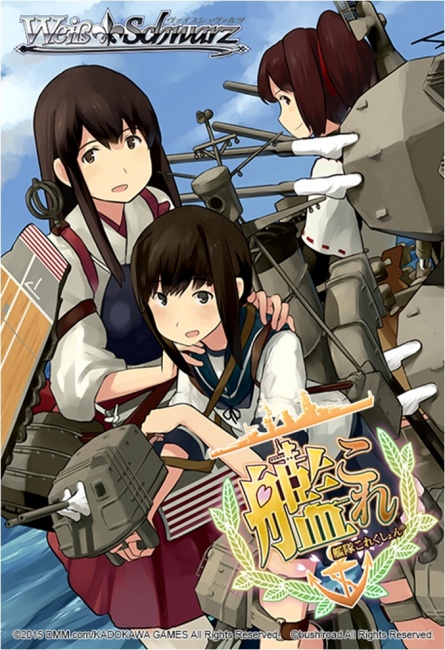 The
Booster Pack
includes new cards and new characters in the 164-card set, which includes 55 parallels. Each booster includes eight cards, with 20 boosters per display. Four rubber playmats are included in each carton. One PR card out of eight types will be included in each display as well. The English Edition does not include gold/silver campaign coupons. With this set, English and Japanese cards may be played together in tournament formats (except in Japan and certain major tournament formats). Exclusive SSP/SP Gold Foil/ Hot Stamp signed cards from the Japanese voice actresses are randomly inserted in packs.