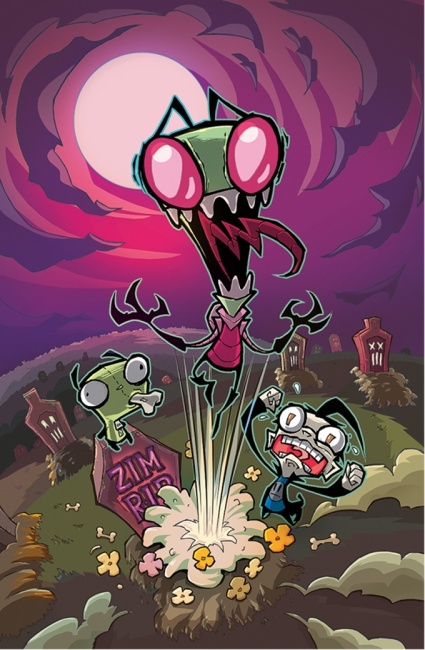 Oni Press will launch a new ongoing comic series based on the Jhonen Vasquez Nickelodeon series
Invader Zim
on July 1. The comic series will be produced in a collaboration between Oni, Vasquez, and the network. The story will be "a new chapter" in the story, according to the announcement.
Creators working on the comic will include Vasquez, Aaron Alexovich, Eric Trueheart, and Rikki Simons.
The series, created for Nickelodeon by Vasquez, launched in March of 2001 (see "
Two Toon Debuts with Merch Potential
"), and was canceled after 26 episodes (see "
'Invader Zim' Repelled
"). But Vasquez was very popular due to
Johnny the Homicidal Maniac
, and I
nvader Zim
a cult hit, with figures produced by SLG (see "
More 'Zim' Connections
") and Palisades. Media Blasters had the DVDs; more recently, Nickelodeon released a best-of DVD (see "
'Invader Zim'
").
"I'm always confused when people say how much they miss
Invader Zim
because the show never stopped running in my head, and then I remember everyone else isn't in my head," Vasquez said of the appeal of the show. "Hopefully this comic makes the world a better place."