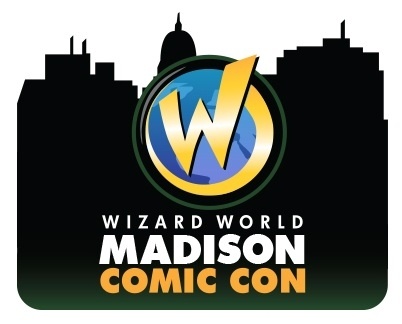 When we heard that Wizard World planned to do a 2-1/2 day show in Madison, Wisconsin, ICv2's home town, we were skeptical. While we attend Wizard World's Chicago-area show in Rosemont each summer, that show has a much larger metro area to draw from, a much larger venue, and one of the longest histories as a show in the country (the original Chicago Comicon, which Wizard acquired long ago, started in the 1970s).
Chicago is the #3 metropolitan area in the U.S. by population, Madison is the #85 area. By the broadest measure (Combined Statistical Area, which groups adjacent metropolitan or micropolitan areas into a single region), Madison has around 850,000 people, while Chicago has 9.9 million people, an order of magnitude difference.
Madison is the second smallest market in which Wizard World does shows, ahead of only Reno, Nevada. So that definitely raises the question, would the Wizard World formula work in a market as small as Madison?
We asked Wizard World spokesperson Jerry Milani what criteria Wizard uses in deciding where to go and how Madison did on those criteria.
"It's a few things," Milani said. "Primarily it's does the city have a population of folks who are interested in pop culture and these kinds of events and these kinds of genres, whether it's comics and sci-fi or something in the television world that has some of that connection to it. Everything at our show doesn't have that, but a large portion does, so when you hear 'comic con' you think about comics and sci-fi and is there a population there that appreciates that kind of entertainment and clearly, Madison does."
We asked how that was measured. "We do some research with fans who come to other events and see where they're from," Milani explained. "We ask local folks who we work with, we ask CVBs [Convention and Visitor Bureaus, ed.] what kind of shows have you had? What kind of responses have you had? We'll have a team in advance try to figure out whether a particular city would fit those criteria. Also important, of course, is our schedule. Is there something that fits into our Comic Con schedule with 25 events spread out over the year and will that be compatible with the convention center?
"And first of all, is the convention center quality enough? It is a good enough convention center that can hold the kind of event that we have which is everything is in one place? You have all the celebrities, all the artists, all the vendors, programming is close. Everything needs to be contained because our show is 'experience everything in pop culture,' not just go see the celebrities and be stuck in that room and never have a chance to see everything else. We want everything together. We want people to run into things they've never experienced before. This venue certainly fit that also. And then how does it fit in the convention center schedule? Do they have dates that will fit into our calendar? Madison, we hit all of them, fortunately."
The advance marketing was thorough. Most important, of course, was public relations, and there was substantial outreach to local media and significant advance coverage as a result. Wizard World also spent money on advertising; we saw billboards and substantial online advertising in advance of the show.
There was outreach to local shops as far away as Milwaukee (75 miles away), who got flyers to give away to their customers.
The headlining guest was the ubiquitous William Shatner, whose autograph cost $80 at the show. Other movie and TV guests included Brett Dalton, Michael Rooker, Edward James Olmos, Eliza Dushku, Jason Mewes, Rob Liefeld, and James Marsters. Comic guests included Rob Liefeld, Mike Zeck, Phil Ortiz, Neal Adams, Arthur Suydam, James O'Barr, and Michael Golden.
The top TV/movie guests, as the attractions with the broadest appeal, got heavy play in Wizard World's advance marketing.
Once attendees arrived at the show, they were exposed to a little bit of everything they'd find at a show in a larger city. In addition to the guests mentioned above, there was cosplay, comic dealers, a wide range of other exhibitors, an artists alley, and panels and other programming. The DeLorean Time Machine and a Batmobile were there (pictures with them for $20). The programming sessions with the biggest draws played in full rooms, with an overflow area where the session could be viewed on a big screen.
Operation of the show was efficient and accommodating to exhibitors and guests, we were told by both, and the show delivered on its promises regarding the size of the audience. Exhibitors were a mix of local shops and dealers, regional dealers, and some, including national marketers, that looked like they were doing the full Wizard World tour.
Dealers told us that Madison attendees weren't buying high end books and original art, but they were buying cheaper comics and lots of impulse items. Exhibitors we spoke to were happy with the results of the show.
On Sunday afternoon at the show, we asked Milani about the results of Wizard World's first show in Madison. "Fabulous," he said. "We have had three days of people enjoying themselves and that's our biggest factor in whether we made the right decision in having a show here. Did the people who come have a great time? We are getting all kinds of great feedback from vendors, celebrities, artists and fans that they had a great time and just eye check—going in and seeing yesterday and today, things are brisk, and people are having a great time. And you never know on Friday because it's a short day, but you know when Friday was big that we're going to have a big weekend. We're coming back."
The question is answered: Wizard World can do a successful show in the #85 market in the U.S. Given that the company has only scheduled shows in 24 cities this year, there seems to be substantial room for additional markets that could support shows. Wizard World is also experimenting with a second (albeit smaller) event in one of its markets for the first time, with Fan Fest Chicago planned for March 7-8.
The company is profitable, reporting net income of nearly $2 million on around $19 million in revenue in the first nine months of 2014, after a turnaround that began earlier last year (see "Wizard World Continues Swing to Profits").
Wizard World is also undertaking some new initiatives further afield, launching a digital channel, CONtv, with Cinedigm today. Initial programming will include Last Fan Standing, a game show hosted by Bruce Campbell; My Morphing Life, a reality series following Jason David Frank through his convention experiences; and Fight of the Living Dead, a horror/reality show that follows digital celebrities as they try to survive a zombie apocalypse.
The company also announced that it will be launching a show in China this year, with a local partner.
This all represents a remarkable turnaround from just five years ago, when the company was canceling and postponing shows (see "Wizard World LA Postponed, Texas Canceled"). Founder Gareb Shamus resigned as CEO in late 2011, after taking the company public through a reverse merger (see "Gareb Shamus Resigns as Wizard World CEO"). John Macaluso, the current CEO, joined the company in March of 2012 (see "Exec Moves Roundup").