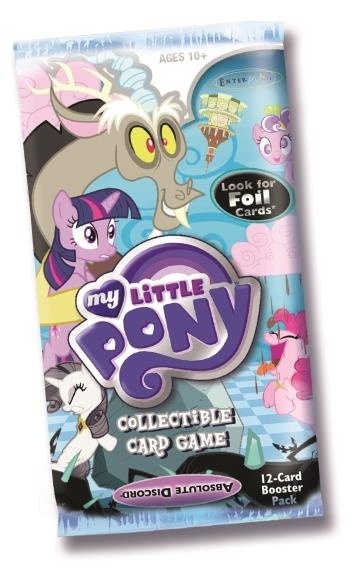 Enterplay will release the
Pre-Release Ki
t for
Absolute Discord
, the fourth set for its
My Little Pony CCG,
on April 24, followed by the
Absolute Discord
Theme Decks
and
Boosters
on May 8.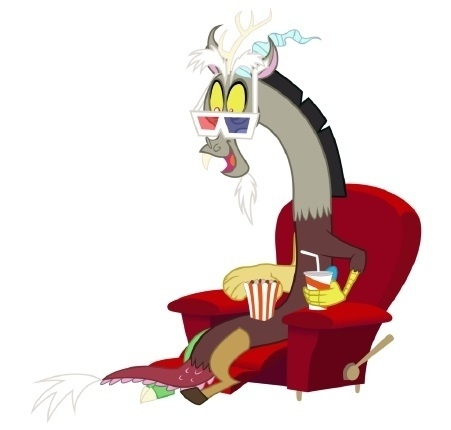 Enterplay announced plans to start utilizing pre-release sets with this expansion last summer (see "
Upcoming 'MLP CCG' Releases and OP Update
"). The 12-player
Pre-Release Kit
will include 84 booster packs (6 per player plus 12 for prizes), 12 Special Foil Cards (#Pf2
"Rainbow Dash's Rainbow Crash"), 12 Collectible
Absolute Discord
Buttons, 12 Special Score Counters, 2 Special Foil Cards for prizes (#Pf3 "Lord Tirek"), 1
Absolute Discord
prize playmat, 2 posters, and 2 "Chaos Rules!" t-shirts. Pre-release events will be held the weekend of April 24-26, and stores must agree to Enterplay's pre-release policies.
The
Absolute Discord Theme Deck
includes 59 collectible cards, including 1 non-foil Mane Character card, an exclusive foil card, a rules booklet, playmat and action tokens.
The
Absolute Discord Booster
set includes more than 200 cards. Each pack will include 12 cards (8 common, 3 uncommon, 1 rare), with foil cards appearing in approximately 1:4 packs, and ultra rares inserted in approximately 1:11 packs.
Season 5 of the popular animated show
My Little Pony: Friendship is Magic
will premiere on April 4 on Discovery Family.