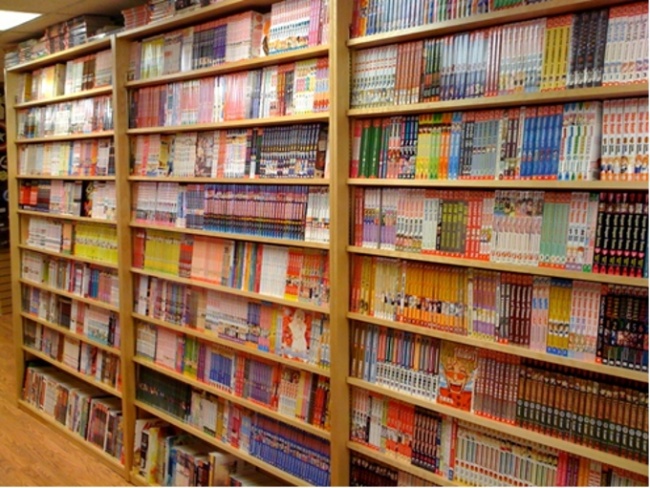 With what the store website describes as "the largest manga selection in New England," we thought that Boston's Comicopia, located near Fenway Park, would have some things to teach us about how to retail manga, and we were not disappointed.
Comicopia Owner Matt Lehman echoed the overall sales trend that we've been hearing elsewhere (see "Manga Continued Turnaround in 2014"). "Our manga sales have been really strong," he said. What's different at Comicopia, which calls itself a "comic bookstore" to emphasize its strong position in both manga and American graphic novels, is scale; the store stocks nearly 4,000 different manga volumes, Lehman told us.
To display that large selection, Comicopia uses seven bays, with the titles divided into four groups. The main, largest section is simply racked alphabetically by title. We asked why the store didn't split those titles into shojo (girls) and shonen (boys) titles, the biggest categories in Japan. "I understand that Viz markets their books that way, but it's hard to force that classification on the buyers," Lehman said. "Separating them into two sections would confuse more than it would help. A lot of the classification would be pretty arbitrary."
This reinforces what we heard from Dark Horse Manga Editor Carl Horn, who told us that writers in Japan were being influenced by shojo manga to write even manga theoretically targeted at male readers with "a style and an aesthetic that have something to offer both male and female readers" (see "ICv2 Interview: Mike Richardson and the Dark Horse Manga Team, Part 1").
The other three sections segregate titles for special groups of consumers. One bay displays only yaoi, the subspecies of shojo featuring romantic stories with gay male characters. A handful of yuri titles is also displayed in this fixture.
Another bay displays all ages material, titles such as Chi's Sweet Home, Dragon Ball, Kingdom Hearts, Naruto, Pokemon, Yotsuba&!, and Yu-Gi-Oh!. This display is adjacent to a fixture displaying American all-ages material, which includes titles such as Peanuts, Sonic, Avatar, Amulet, and Adventure Time.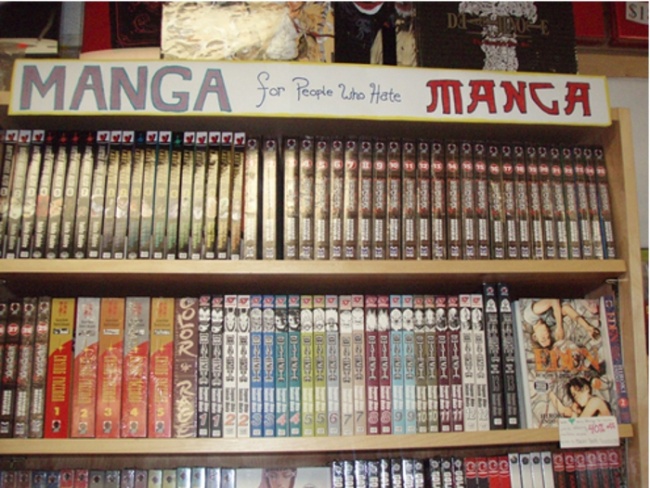 Comicopia also has a display labeled "Manga for People that Don't Like Manga," which includes titles such as
Lone Wolf and Cub, Dorohedoro, Monster, Vagabond
, and
Uzumaki.
Top hit Attack on Titan is "cross-racked everywhere," Lehman said.
Because of varying formats, it's also necessary to have a shelf of oversized manga that don't fit the shelves for the standard manga format.
UPDATE: Lehman provided additional information on how he sources manga by follow-up e-mail. "We normally order on a non-returnable basis from the four major manga publishers (Hachette, MacMillian, Random House, Simon & Schuster), using Diamond, (also non-returnable) and Baker & Taylor and Bookazine (10% returnable) as back-ups," he wrote. "However, for the two anime/manga conventions we do each year (Anime Boston and Connecticon), those publishers, B&T and Bookazine allow us to also order on a returnable basis (sometimes at a lower discount), so we split our orders (returnable/non-returnable) roughly 50/50, tweaking the ratio depending on the risk factor."
The gender mix of customers in the store is around 50/50, Comicopia store manager Angela Outlaw told us, who shared her insight on why manga appeals to women more than American comics. "It's definitely easier for women to get into comics with manga just because there's so much more availalble," she said. "There's a lot more content that has a variety of female characters. American comics have more of the damsel in distress tropes, or the female superhero who's an emotionless killing machine."
Outlaw contrasts that with shojo or josei manga, which might have a character that's similar to the American female comic archetypes, but also offer more fully realized female characters. "You could have a character that's boy-crazy, but it doesn't come off as condescending because in that same volume you'll have five team characters that are so much more than that," citing Sailor Moon as an example of such a title. She also argues that "stores that carry manga create a safer place for women."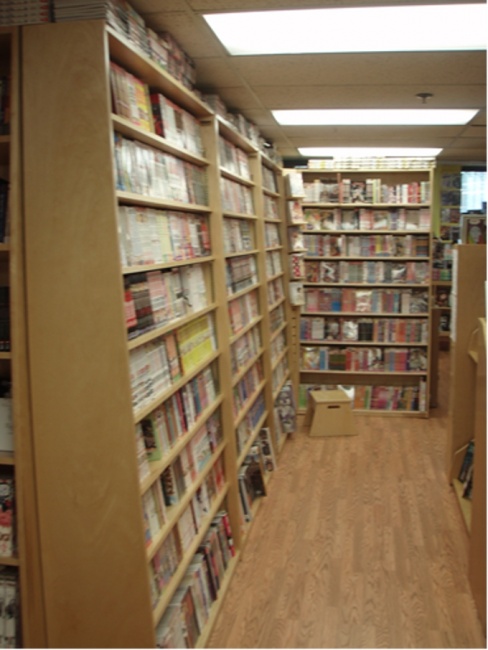 Although the gender mix of the store's customers is due to the long history of offering manga, female customers are crossing over more to buy American comics, Outlaw told us. "Female customers are buying more American comics like
Saga
or
Sex Criminals
," she said. Recommendations are based on genre, not on the whether the titles are American or Japanese. "My criteria is that I like to find out what movies or TV shows they're really into to get a feel for the genres they like," she said. "Then I find the best product I can, and a lot of times its both [manga and American comics]."
As a bonus, Lehman shared two recent manga launches that have done well that he said "really surprised me:" Akame Ga KILL!, launched in January from Yen, and JoJo's Bizarre Adventure, which Viz launched in February.
The store's been in business since 1989, with Lehman taking over as sole owner in 1999. He's been a judge for the Eisner Awards, and the store was a finalist for the Will Eisner Spirit of Retailing Award in 2009.