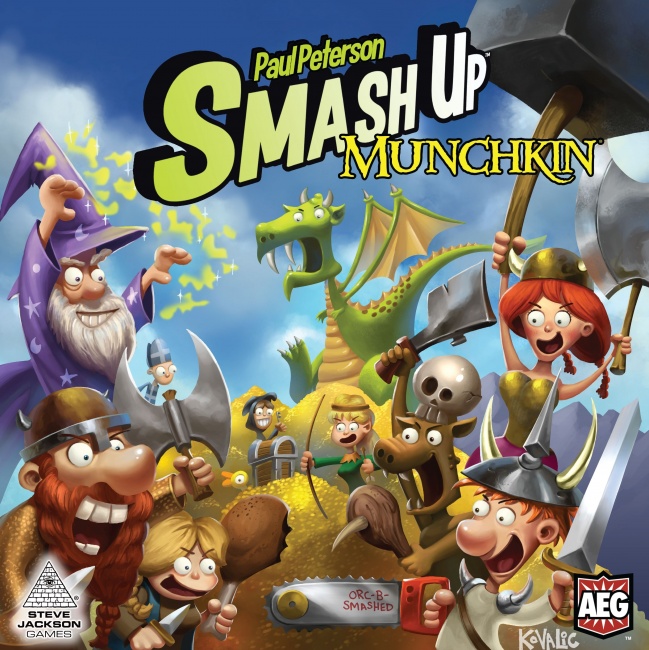 Alderac Entertainment Group and Steve Jackson Games will release
Smash Up: Munchkin,
a mash-up deck building card game of
Munchkin
and
Smash Up.
The game will premiere at Gen Con, with trade release following in September.
(Click either image for larger view.)
Players take 20-card faction decks from any two factions (Clerics, Halflings, Orcs, Warriors, Elves, Thieves, Dwarves, Mages), shuffle them into a 40-card deck, and them attempt to smash more bases than the other players.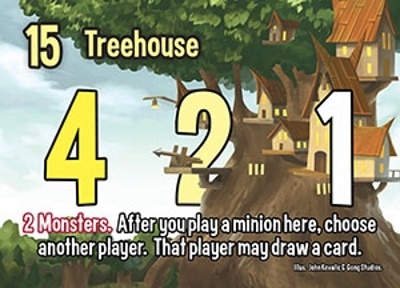 The game features two new card types: monsters and treasures. During setup, treasures are shuffled together to form their own deck, and monsters are shuffled to form another deck. The decks are only used when players are instructed to in the course of gameplay when attacking bases. Monsters function as a special type of minion card, and when destroyed, the player that destroys it gets to draw the number of treasure cards
The box contains 8 faction decks with 20 cards each, 20 monster cards, 22 treasure cards, 16 base cards, 10 dividers, a token sheet and a rulebook.
The game is for 2 - 4 players, ages 12 and up, and plays in 45 minutes. MSRP is $34.99.
Alderac has shared several preview cards, featuring new Munchkin art drawn by John Kovalic and painted by Francisco Rico Torres and Gong Studios, which are gathered in the gallery below.