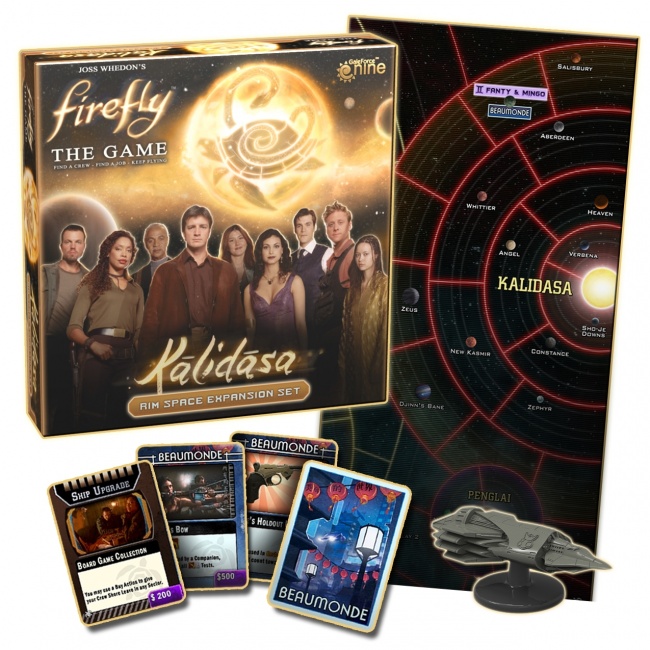 Gale Force Nine has announced a second "Rim Space Expansion" for its popular
Firefly: The Game
. The new expansion is scheduled to release in September.
Like the earlier Blue Sun expansion, the Kalidasa Rim Space Expansion Set features an add-on board that increases the size of the game board and adds new locations for players to visit. New Contacts operate from this new area, offering new opportunities for work, while the port of Beaumonde provides new types of gear and supplies. Travel in the 'Verse becomes more challenging with new Nav Cards for every region of space, and the Operative's Corvette extends the reach of the Alliance.
Though the expansion will not be released until September, fans of the game will have an opportunity to preview it at the upcoming Gen Con game convention in July. GF9's Peter Przekop told ICv2 that "players who sign up for Gale Force Nine-run Firefly events in the Events Hall will get to play with the new Kalidasa content."
He also explained that the game will likely only be available for pre-order at the show: "it is unlikely that we will have copies of the expansion to sell at the show but we will be taking pre-orders and filling them as soon as stock arrives."
The new expansion includes 1 game board, 1 plastic "corvette" ship model, 54 game tokens, 5 Set Up/Story cards, 197 game cards, and expansion rules. As an expansion set, a copy of the base game is required to play. MSRP is $39.99.
Kalidasa follows two other small-box expansions releasing this summer (see "Two Expansions For 'Firefly: The Game'").
See board, cards, and ship preview in gallery below.