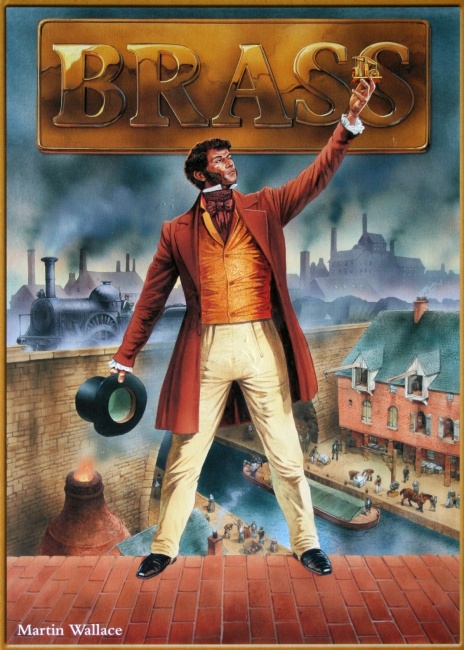 Game designer Martin Wallace got into an online dispute this week with Eagle-Gryphon Games over publishing rights for the board game Brass.

On Monday, Wallace, who has had past legal disputes with the current incarnation of Eagle-Gryphon Games / Fred Distribution over publishing rights to Age of Steam, posted a statement on his company's website after seeing a thread on BoardGameGeek discussing Eagle Games' planned Kickstarter for a new deluxe edition of Brass in July.

Wallace stated that Eagle-Gryphon no longer had the rights to Brass, as he had terminated the contract in 2013. "I have emailed [Eagle-Gryphon Vice President Marketing & Public Relations] Ralph Anderson a number of times to try to clear this matter up without my going public. I have had no response, hence the present post. If Eagle-Gryphon do go ahead with the Kickstarter I urge you not to subscribe. To do so would be giving money to a company which has repeatedly acted in an illegal manner. I will be contacting Kickstarter to inform them about this situation, with the aim of having the game removed from their site."

Eagle-Gryphon Games CEO Rick Soued addressed the issue in a Board Game Geek forum post, "I am very sorry to see that Martin has reverted to his unfortunate habit of publicly writing misinformation about matters that should be handled privately."

"…However, I have since learned that it is best to settle these matters privately and legally, if need be, without writing about them publicly."

"So I will only say this. Martin's accusations are entirely without factual basis. Eagle Games has an entirely valid and up-to-date contract with Martin for the publication rights to Brass and he is well aware of that. There are far more appropriate ways than the one he has once again chosen for the facts to be established and the parties involved to resolve issues between them."

After another statement on BBG from Wallace Monday night, Soued posted "(A)s we have just agreed privately, Vital Lacerda has agreed to moderate a private discussion between the two of us in an effort to resolve our differences regarding Brass and other matters. In the meantime, it would be great if all public discussion of this ceased… There will be no Brass Kickstarter project until you and I have concluded our sessions with Vital moderating. We will issue a jointly worded statement at the conclusion of those discussions. Please confirm this understanding so that the BGG community knows that this is a joint agreement."

No additional public statements have been made by either party as of this writing.

Wallace recently parted ways with another U.S. publisher earlier this year (see "'Ships' Sinks Mayfair, Wallace Accord").

It has been a rough week for designer/publisher relations (see "Designer Comments Roil 'Kingdom Builder' Kickstarter").