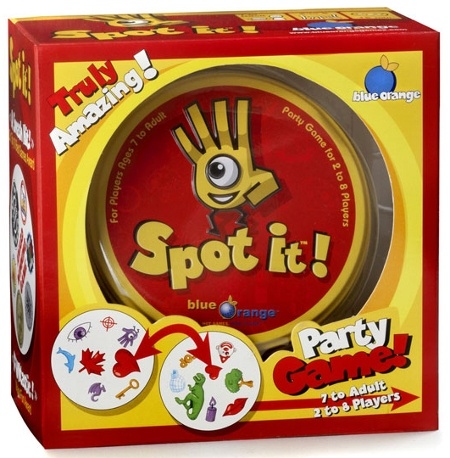 Asmodee has announced the acquisition of the worldwide publishing, commercial and brand rights to the award-winning party game
Spot It!
, known internationally as
Dobble.
Spot It!
was originally launched in the U.S. market by Blue Orange in 2009, and Asmodee was co-publisher and distributor outside of North America. Now that the company has the worldwide rights, it will take over distribution of the game in the U.S., following a transitional period in which the marketing of the game will continue under Blue Orange.
Spot It!
and
Dobble
have sold over 7.7 million games worldwide since launch, with over three million of those sold in North America last year.
The game offers a variety of playing modes, each of which is based on matching symbols on the cards as quickly as possible, making the game easy to learn and quick-playing for groups of up to eight players. A number of different themed versions of the game have also been released, many attached to popular licensed properties.
Asked whether there were any plans to unify the branding under one name, an Asmodee spokesperson told ICv2 that "both are fantastic brands which we will treat with the utmost care and respect."
Gaining the rights to
Spot It!
continues Asmodee's series of high-profile acquisitions over the past couple of years, including both Days of Wonder and Fantasy Flight Games in 2014 (see "
Asmodee Acquires Days of Wonder
" and "
Fantasy Flight Games Merges With Asmodee
"). According to a company press release, Asmodee chose to add
Spot It!
to its line as part of its "strategy of expanding its portfolio and international presence" in both the hobby gaming community and the mass market.