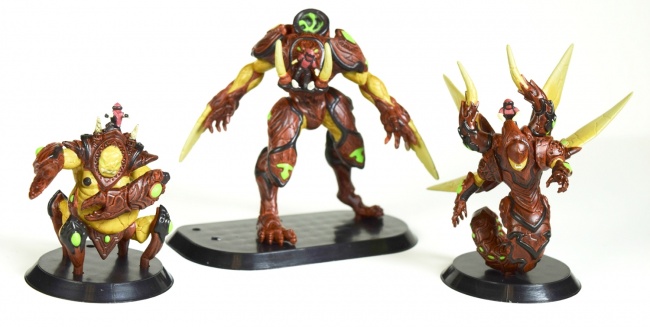 Harebrained Schemes has announced two new sets of models for its digitally-enhanced tabletop miniatures game
Golem Arcana
: a Gudanna set in November and a Durani set for February. Each set will include three new models for the game.
(Click either image for larger view.)
Gudanna: Raiders of the Blasted Land is scheduled to release on November 18. The three models in this set will include the Warsprite Burrow Claw, which can move underground, the Ogre Terra Naga, which can attack enemies while moving, and the Titan Ravager, who is designed to create openings in the enemy ranks. Four new Relic Cards are also included: Valli's Lantern, Metr's Blood Well, Zyama's Anointing, and Davati's Sacrifice.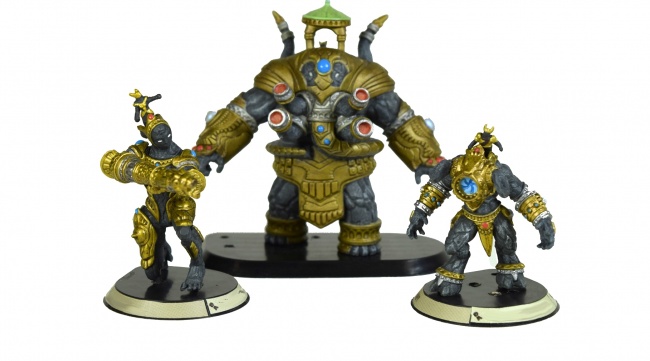 On February 17,
Durani: Champions of the Western Wind
will be released. This set will include the Warsprite
Mountain Howler
, which specializes in displacing enemies, the Ogre
Stormshot
, with a powerful long-range attack, and the Titan
Siege Mammoth
, which has a mighty area-of-effect attack. The four Relic Cards in this set are
The Fire of Amukta
,
Armor of Dana-Arga, Vajra's Retribution
, and
Zargin's Favor
.
MSRP for each set is $34.99.
In June, Golem Arcana was honored with the Origins Award for "Best Miniature Figure Rules" (see "2015 Origins Award Winners").
The Urugal Ashmogh Colossus is due to release this month (see "New Colossus & OP Campaign For 'Golem Arcana'").