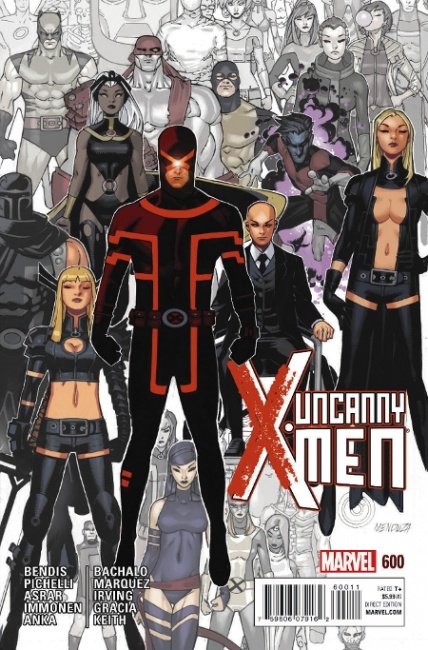 The long-delayed
Uncanny X-Men
#600, originally scheduled to ship in May, will street on November 4. The book was delayed until October because of delays in the release of
Secret Wars
(see "
Marvel Teases Post-'Secret Wars' MU
"), then pushed back another month.
Secret Wars
-related delays were snowballing by early June (see "
Marvel Delays Hit Collections, 'Secret Wars
'"), and by last month appeared to have been affecting the dollars in the market (see "
Are Marvel Delays Affecting Market?
").
Writer Brian Michael Bendis recently responded to a question about the issue on his
Tumblr
. "First of all, I am not the publisher or the editor. I am the writer. I do not dictate shipping. I wish the book was out last June. That's the truth. I wish
Secret Wars
shipped on time and I wish all the books that I have connected to it shipped on time as well. Out of my hands." Bendis then listed books that were complete but delayed, including
Old Man Logan, Ultimate End, Uncanny X-Men
#600, and
Spider-Man
#1.
Click below to enter the 12-cover Gallery.