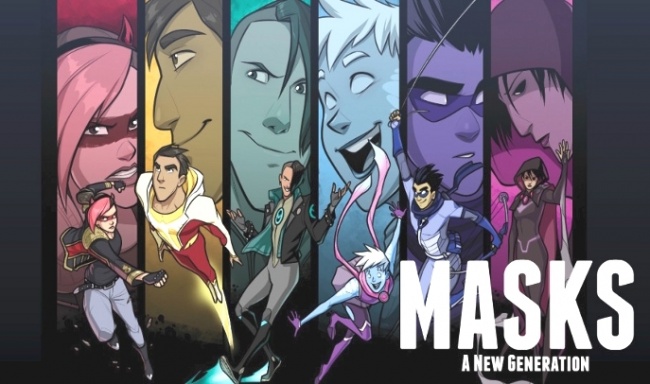 Magpie Games will release the new teen superhero roleplaying game Masks: A New Generation in May 2016. The game recently raised more than $100,000 during a very successful Kickstarter campaign.

Designed by Brendan Conway (Firefly RPG, Bulldogs! Fate Core Edition)Masks has players take the roles of coming of age superheroes in a city which has seen several generations of super-powered guardians and villains shape its identity. Players must work together to balance their powers, while also dealing with the adults who try to tell them what to do. The actions of the other players (and the adults) help shape players identities as they progress through their adventures. The game uses the "Powered by the Apocalypse" game system, the same game engine used in Apocalypse World, Monsterhearts, and Urban Shadows.

A Magpie Games representative told ICv2 trade release will begin in May with the Masks corebook. The book will have approximately 200 full-color pages, and come in softcover ($30.00) and hardcover ($50.00) editions. Additional supplements, including Halcyon City Herald Collection, Masks: Unbound, and Secrets of A.E.G.I.S., will be available in softcover ($20.00) and hardcover ($50.00). Release for those supplements is planned for GenCon 2016.

The recent Kickstarter to fund the game raised $107,328 from 2,371 backers ($45.27/ backer average).