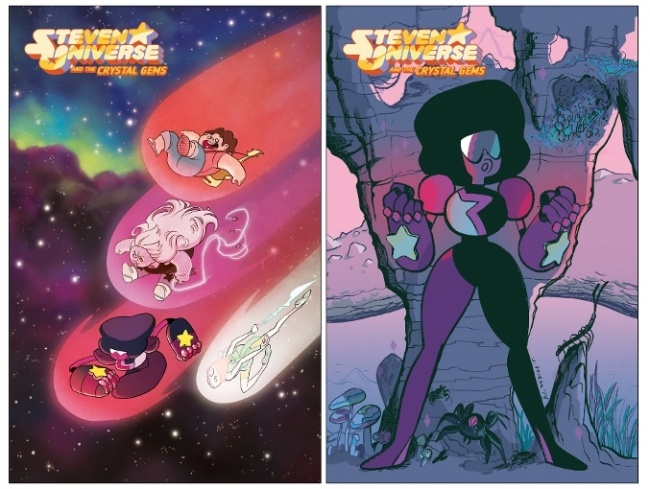 BOOM! Studios has announce two new licensed comics tied to Cartoon Network series for February: a new
Steven Universe
miniseries, and a
Clarence
original graphic novel.
The new four-issue Steven Universe and the Crystal Gems miniseries will be written by Josceline Fenton (Hemlock), with art by Chrystin Garland (Adventure Time). The first issue will feature a main cover by Kat Leyh, a subscription cover by Jeremy Sorese, and an incentive cover by Amber Rogers. The story will follow Steven and the Gems on a camping trip where they tell spooky stories by the campfire, including one about a monster that turns bad Gems into glass and shatters them. When they return to town, people have begin turning up frozen in glass…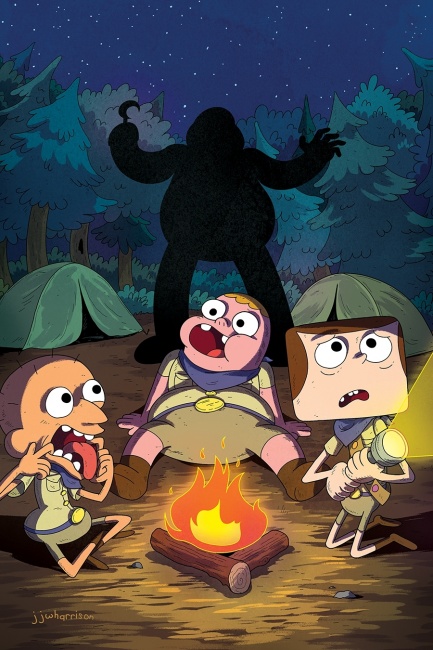 Clarence: Chicken Phantom Vol . 1
is the first original graphic novel based on Skyler Page's hit Cartoon Network animated series
Clarence.
The OGN is written by Derek Fridolfs, with art by JJ Harrison. The 144-page, full color paperback has an MSRP of $14.99. Release is planned for February 23.
Clarence is a cheerful, pudgy 9-year old who likes to try new things with his best friends Jeff and Sumo. While spending the summer in the woods with the Rough Rider Scouts, Clarence and his friends find the lost journal of notorious Black Buck The Pirate in a cave. The journal details his adventures and tells where he buried his treasure, but also warns of the phantom chicken that haunts the woods, and drives people mad. It's a race to find the treasure while avoiding the phantom chicken and rival scout, Joshua Maverick.