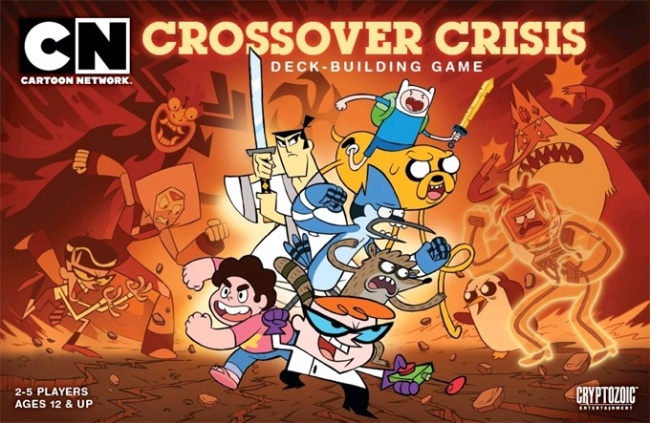 Cryptozoic has announced it will release Crossover Crisis DBG, a deckbuilding game featuring some of the most popular characters from Cartoon Network's hit shows of today and yesterday. The game is scheduled for release on April 30.

Crossover Crisis DBG includes characters from nine Cartoon Network shows: Adventure Time, The Amazing World of Gumball, Clarence, Courage the Cowardly Dog, Dexter's Laboratory, Johny Bravo, Regular Show, Samurai Jack, and Steven Universe. At the heart of the game are the playful themes of IDW's Super Secret Crisis War, a comic miniseries which included characters from many popular Cartoon Network shows (see "Cryptozoic's 2016 'Adventure Time: Card Wars' Plans"); while that comic prominently featured The Powerpuff Girls characters, those characters are absent in the base game.

The game makes use of the Cerberus Engine that many Cryptozoic DBGs are built on, making it compatible, at least in part, with DC Comics DBG, The Lord of the Rings: The Fellowship of the Ring DBG, and Capcom Street Fighter DBG, among others. Crossover Crisis DBG introduces new unique Weakness cards, a new card type called Pratfalls, and extremely playful Event cards. The game includes 206 game cards, 9 oversized character cards, and one rulebook. A special promo Dee Dee character card from Dexter's Laboratory is available to stores who order the game during its first printing.

MSRP is $40.00.