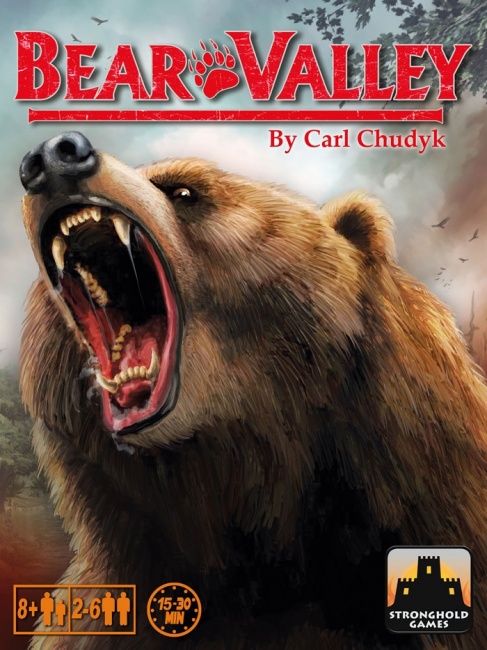 Stronghold Games has announced Bear Valley, an exploration game by Carl Chudyk (Glory to Rome, Uchronia), for release in April 2016.

In Bear Valley, players attempt to cross the wilderness and reach the safety of their camp at the far end of the valley while avoiding bears and other natural obstacles. The game features a strong exploration mechanic, with the players mapping out the valley as the game goes along using the geomorphic wilderness cards that depict paths, hazards, and valuable equipment to be collected along the way. Each player has a character that offers them unique advantages and disadvantages. The first player to reach the camp wins the game, though a variety of gameplay variants are included to shorten or lengthen gameplay and adjust the game's complexity.

Bear Valley includes 79 wilderness cards, 15 valley cards, 6 player cards, 18 equipment tokens, 8 discs, and 6 player meeples. The game is for 2 to 6 players, ages 8 and up, and plays in about half an hour. MSRP is $24.95.

Stronghold plans to release Bear Valley shortly after releasing a new edition of the Brands' Village game (see "Stronghold Releasing 'Kennerspiel' Winning 'Village' Series").