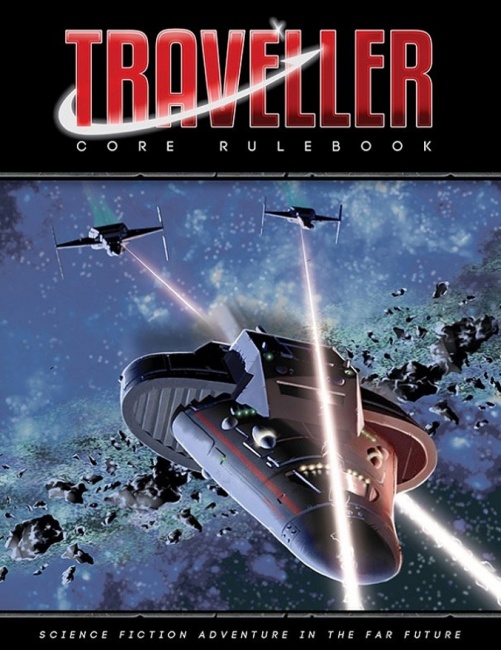 Mongoose Publishing will release its new
Traveller Core Rulebook
next April, bringing the classic role-playing game back in a new print edition.
Now almost 40 years old, Traveller was designed for traditional "space opera" style gaming, with adventurous explores seeking new worlds and lost civilizations and interacting with exotic alien species.
The Core Rulebook was written by Matthew Sprange, who has written for earlier editions of Traveller, as well as Advanced Dungeons & Dragons, The Judge Dredd Roleplaying Game, and Runequest, among others. The book will be hardcover, with full color throughout, and will include rules for character creation, interstellar travel, spaceship construction, and combat, as well as a toolkit that gamemasters can use to create their own universes, if they do not choose to use the standard Traveller setting. The U.S. MSRP has not yet been announced.
A digital-only version of the book is already available.
Mongoose plans to support the new edition with a number of adventures and sourcebooks in both PDF and print formats, with the print versions following the PDFs by about two months. The first release will be the Traveller Referee's Screen, also releasing in April, followed by High Guard and High and Dry, scheduled for May, then the Central Supply Catalogue and Vehicle Handbook in June and July. A boxed starter set is planned for late summer release.
Mongoose acquired the rights to publish Traveller in 2007, reviving the title after being out of print for 10 years (see "Mongoose Revives 'Traveller'").