There has been movement on several film studio projects in the past few weeks, and we round up the news here.

Alcon Entertainment's sequel to Blade Runner will begin shooting in July, and will be distributed by Warner Bros. in the U.S. and by Sony worldwide. The film will star Ryan Gosling, with Harrison Ford reprising his role of Rick Deckard (see "Ryan Gosling in 'Blade Runner' Sequel").

The Walking Dead's Maggie Greene, Lauren Cohan, has joined the cast of Batman v Superman: Dawn of Justice in a small cameo role, Entertainment Weekly is reporting. Cohan will play the role of Martha Wayne, Bruce Wayne's mother. The film opens in March (see "'Batman v Superman' Round-Up").

Sony Pictures Animation has brought in T.J. Fixman to script Popeye, Deadline is reporting. Fixman was the lead storyline developer for the Insomniac Games' Ratchet and Clank video game franchise. The last news on the animated feature was director Genndy Tartakovsky leaving the picture in March (see "'Well, Blow Me Down!' Tartakovsky Says He's Off 'Popeye'").

McG (Charlie's Angels: Full Throttle, We Are Marshall, Terminator Salvation) is in talks to direct Sony's live-action Masters of the Universe film, according to Deadline. This is the first news for the film since April 2014, when a new scriptwriter was brought in (see "Geek Film News Round-Up"). According to the deal, McG will first oversee a rewrite of the script.

Benedict Wong (Kick-Ass 2, Prometheus, The Martian) has been tapped to play Doctor Strange's manservant Wong in Marvel's Doctor Strange, The Hollywood Reporter is reporting. The character Wong performs healing duties, assists the Doctor in occult matters, and is a literal bodyguard for Strange when he astrally projects himself to other planes. The film is due in theaters on November 4 (see "First Official Look at 'Doctor Strange'").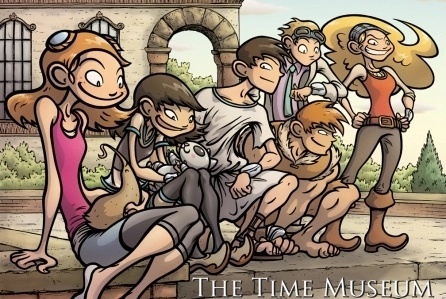 Broad Green Pictures has acquired the rights to Matt Loux's forthcoming graphic novel series
The Time Museum,
which is due out from First Second/Macmillan in early 2017, according to
Deadline.
The series follows a smart-but-awkward high school girl who discovers the strange Earth Time Museum and is drawn into time-travel adventures. Barry Josephson and Liz Bassin of Josephson Entertainment will produce.