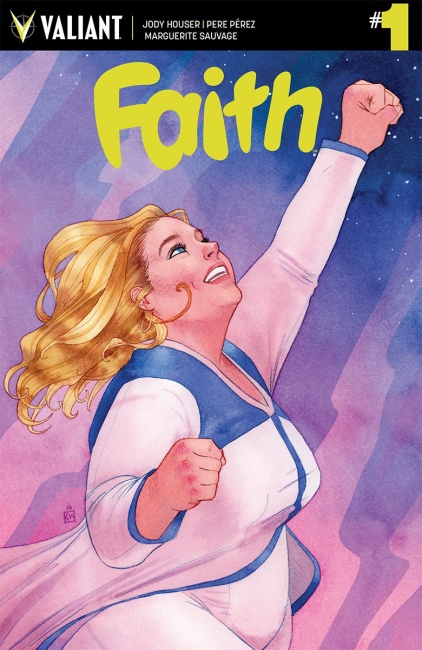 Valiant Entertainment has announced a new ongoing series for Zephyr
,
launching in July.
Launching out of the Valiant's top-selling miniseries Faith (see "Zephyr Gets Her Own Miniseries"), the ongoing series will be written by Jody Houser (Orphan Black) with art by Pere Perez (Archer & Armstrong) and Marguerite Sauvage (DC Comics Bombshells). The first issue will feature covers by Kevin Wada, Jelena Kevic-Djurdjevic, Cary Nord and Emanuela Lupacchino. Variant covers will be done by Swyft Media, Pere Perez, Kano, and Colleen Coover.
Zephyr protects Los Angeles by night, and works as a reporter by day. She's dealt with crushing work deadlines, juggling a long-distance relationship, and finding elusive back issue comics for her collection. But now there's a super-villain that has it in for her, can she untangle the mysterious grudge of this new foe?
"Faith isn't just a superhero anymore. In a very short time, she's become a true pop culture phenomenon," said Valiant CEO & Chief Creative Officer Dinesh Shamdasani. "Finally, the world is realizing what we at Valiant have known all along: that in a medium populated by characters that can often seem dark and cynical, Faith represents a ray of hope and optimism that resonates far beyond the printed page alone. She truly is a hero in every sense of the word and, at her core, she represents the best that superheroes and comics as a whole have to offer to the world."
See four covers for Issue #1 in the gallery below.