Ninja Division and Soda Pop Miniatures will release the sci-fi western miniatures game
Rail Raiders Infinite
in Q4.
(Click either image for larger view.)
Set in a Western-style science fiction setting, Rail Raiders Infinite casts players in the role of bandits raiding the Interstellar Express space-train, searching the cars for loot and fighting it out with the Lawbots of the C.O.W. and the Galactic Central Bank. Action in the game is resolved using a set of custom "poker dice", with higher scoring hands winning conflicts.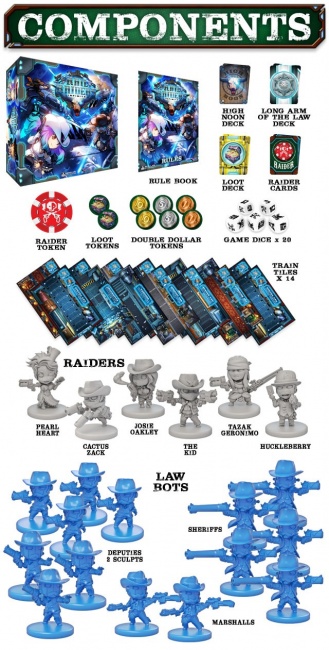 Rail Raiders Infinite
includes 14 train car tiles, 4 decks of cards, 20 poker dice, 6 raiders and 14 lawbot minis in Soda Pop's distinctive chibi style, and game tokens. MSRP is $60.00.
The project is being funded through a Kickstarter campaign, which easily reached its $30,000 funding goal in the first day. Both English and German language versions of the game are planned, with backer fulfillment expected for October, with release into the trade to follow.