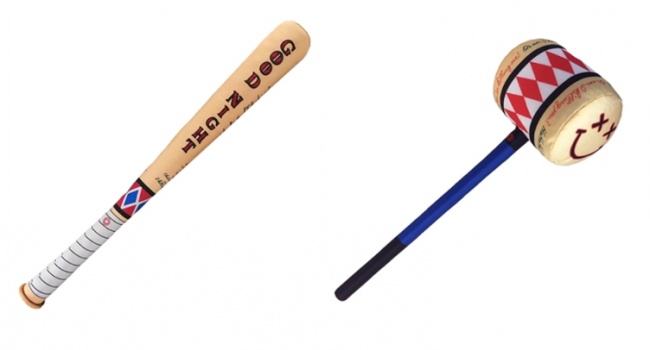 Factory Entertainment, Inc. has announced two new additions to its licensed SWAT (Soft Weapons and Tactics) weapons line.
Suicide Squad: Harley Quinn's Good Night Bat
and
Harley Quinn's Mallet
will arrive this summer.
"To ensure the accuracy of each piece, Warner Brothers provided us with access to the original screen used props from the film, as well as various assets and imagery from the set in order to truly capture what's seen on screen," said Tom Vargas, Product Developer of Factory Entertainment's Suicide Squad SWAT™ line. "Both the Good Night Bat and Mallet feature screen-accurate wording and other fine details, making them as authentic as possible and perfect for living out your Harley Quinn role-playing / cosplaying fantasy at conventions, parties, or wherever else gentle mayhem is appropriate."
The SWAT weapons are safe for age 8 and up. They also feature a series of sounds that play when the weapons are swung and when they impact. The Good Night Bat has an MSRP of $29.99. The Mallet has an MSRP of $39.99.
Factory Entertainment launched the SWAT line with zombie weapons in early 2015 (see "Toy Fair Pics: 'DC Comics,' 'Game of Thrones,' 'TMNT,' More").
(See detailed close-ups of both weapons in the gallery below.)