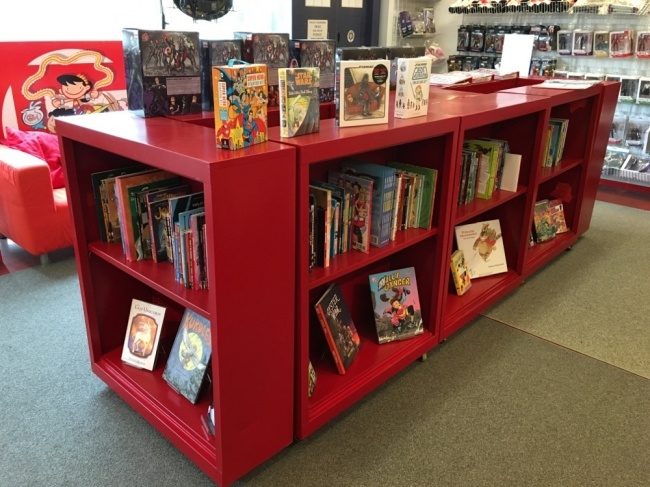 "All-ages books?" Yeah.
There's little doubt that standards like Bone and new-school sensations such as Amulet can indeed be enjoyed by readers from ages 8 to 80. But when it comes to prying the dough out of a wallet or backpack to pay for those books, how does a store bridge the gap from kids to parents?
(Click any image for larger view, or click on the Gallery below.)
"Our customers and our neighborhood showed us the way," said Patrick Brower of Challengers Comics in Chicago. "Weekends were packed with families and kids here. Every store has a small kids section, but we decided to grow it."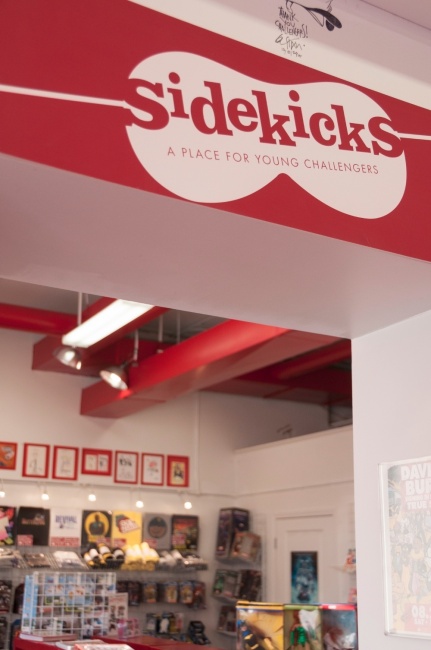 In Brower's case, "grow it" meant a separate-but-connected 400 square-foot mini-store called Sidekicks. "The same layout and same style of shelves," he said. "It's a miniature version of Challengers."
A full-on mini-store is a bold move. But it's paid off at Sidekicks. Sales are booming.
"We really feel that the more kids books you have, the more you will sell," Brower said. "They do not linger on the shelves. And cliché as it may sound, these are your customers of tomorrow. Get them today, you can have them for a long, long time."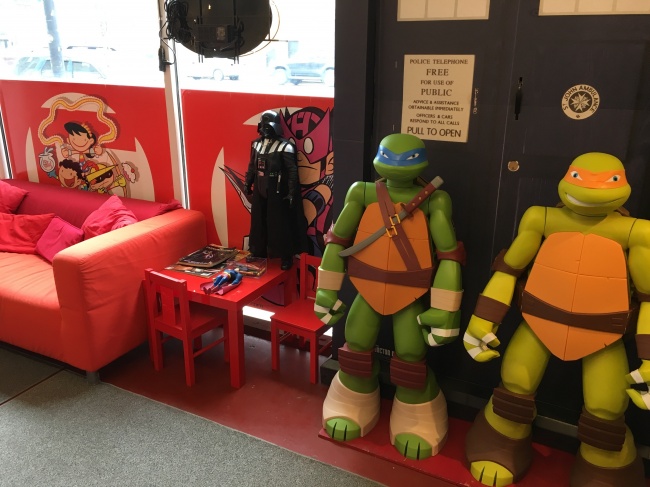 Brower will try to keep them for a long time by recognizing that language has power. The K-word is taboo.
"We don't say 'kids books,' because kids don't want to read kids books. They want to read adult books," Brower said. "We say 'all ages,' and that lets parents know it's for kids, it's for them as parents, and even us. The staff here is huge fans of so much of the stuff we shelve in Sidekicks—Bone, Amulet and things like that are books we love as adults."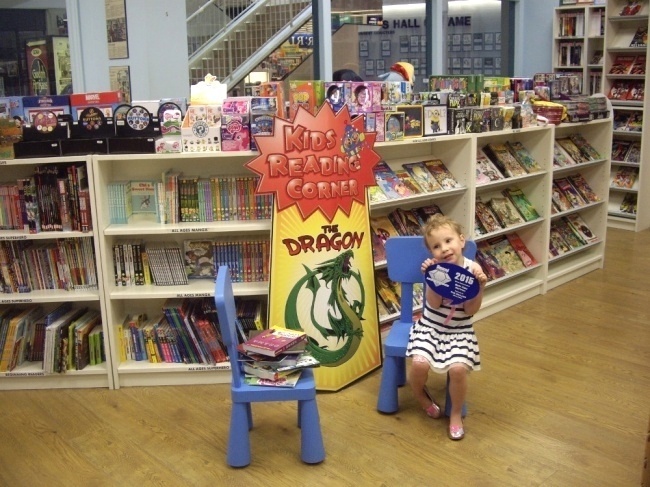 Brower said he sees families browsing and making decisions together at Sidekicks. Similarly, Jennifer Haines at The Dragon in Guelph, Ontario is proud to have a store where kids spend their allowance next to parents buying birthday presents (see "
Business 3x3: Jennifer Haines at The Dragon
"). For her, it starts with a level of comfort.
"Women control about 85% of household spending in North America," Haines said. "So when mothers and grandmothers—grandmothers love to buy gifts!—come in, we need to make sure the total environment is welcoming."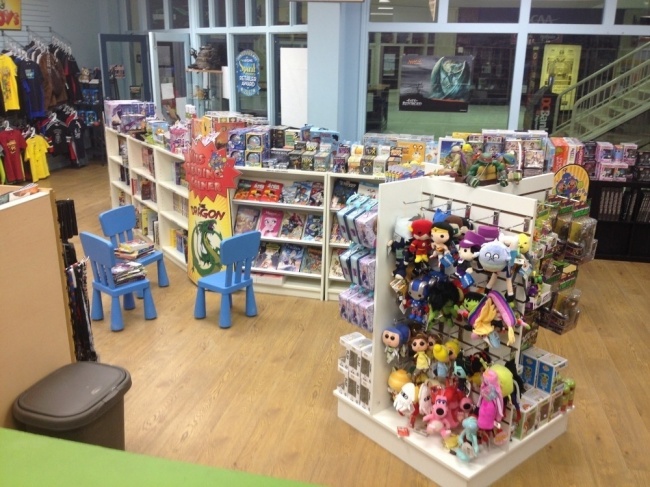 The Dragon has purposefully wide aisles that are very stroller- and wheelchair-friendly, and the welcoming environment extends to language as well.
"When we do gaming events, people can get a little angry, but there's no swearing allowed," Haines said. "We'll tell customers to watch their language when we have to, because it's important to us that parents feel like it's a safe environment for kids."
And freebies are clutch.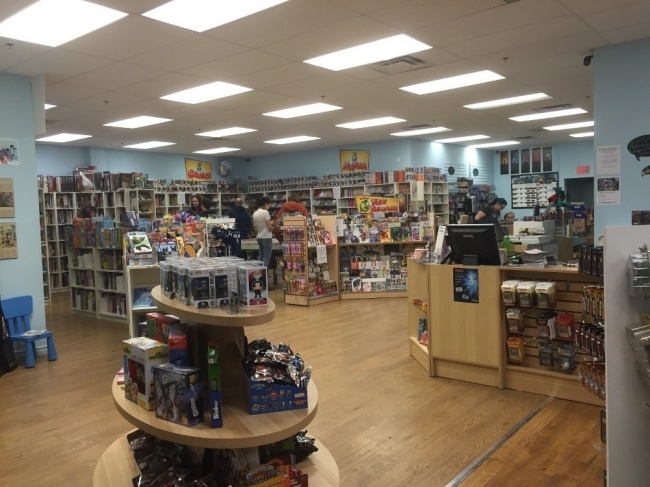 "Every kid who comes into the store gets a free comic," Haines said. "With Free Comic Book Day and Halloween Comic Fest, we overbuy a lot of extra books. When things go on liquidation at Diamond, we'll buy a lot of books to give out to kids. So every kid that comes in gets to go out with a free comic. That gets them into comics, gets them to come back, and builds future customers."
The kids section is a free-standing island at The Dragon, "So it's not right next to the Walking Dead comics, which I've seen in other stores," Haines said. And the distinction between what's kid-friendly and what's not is important.
"Kids want to come in and experience Batman and Superman and all that, and I wish there was more for them there," said Mike Wellman of The Comic Bug, a two-store Los Angeles chain. "You can't sell a kid a Scott Snyder issue of Batman. But there are wider options for kids. It used to be 'Bone, and that's it.' Now there's still Bone, but there's also Amulet, the works of Doug TenNapel, Jeffrey Brown's Star Wars stuff, and more. We have hundreds of kids' books now."
And Wellman definitely sees the comic store experience as an all-in-the-family one.
"Lots of moms and dads who are comic collectors want to share the hobby with their kids. We see a lot of dad getting his stack, and he'll let the kid pick two or three books along with that," he said.
There's a great side benefit for Wellman as well.
"I have an 8-year-old, and I'm the cool dad at school 'cause I have the comic store," he laughed. "I'm cooler than the bankers and the firefighters. And there's so much like The Simpsons now, where there's stuff in there for both kids and adults, that I can talk to the kids and the parents about the same stuff. The stuff from Doug TenNapel never talks down to kids, and that's important. So yeah, I talk to parents and get new customers when I drop my kid off for school."
Parent-and-child co-reading opportunities are more prevalent than ever these days.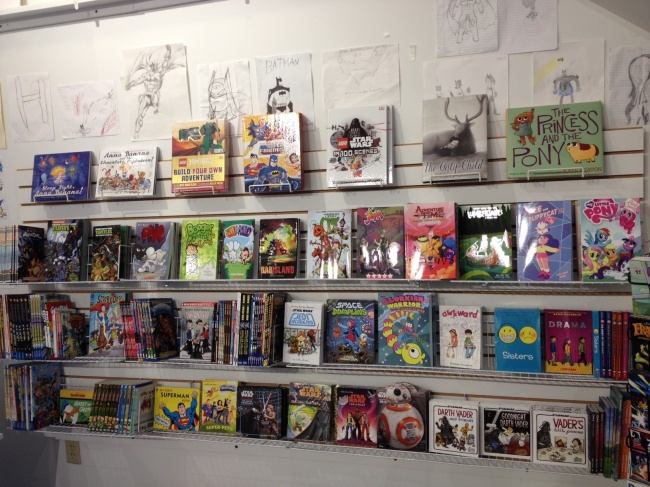 "It's great when the kid of a Neil Gaiman fan can read and experience
Fortunately, the Milk
by Gaiman," said Barry Herring of Southern Fried Comics in Hattiesburg, MS. "And Golden Books can hit both at the same time. Parents read Golden Books when they were young, so we love them and have nostalgia for them. And now when kids gravitate toward them, it's
Star Wars
, which is multi-generational, both at the same time!"
Herring is a big believer in another 40-year-old kids property, too.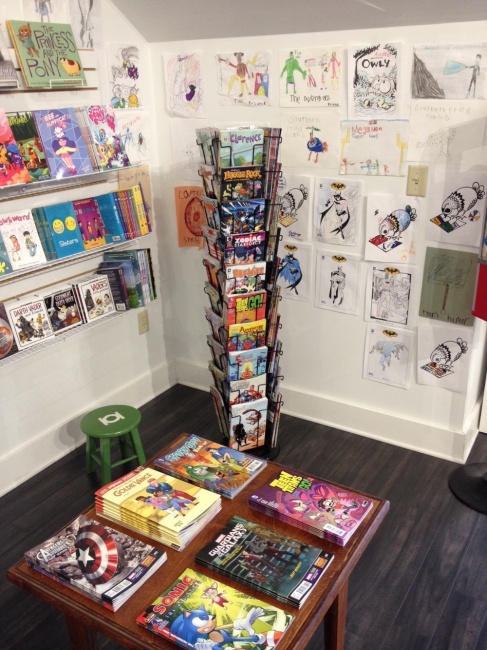 "One of my best-selling comics is
Scooby-Doo Team-Up
," he said. "Kids
want
that, they want a comic of their own. They love seeing Scooby Doo with Superman, the Justice League, or whoever. It's great fun for them. Publishers just have to do a better job of providing those."
But superheroes, the backbone of many comic stores, often aren't the first comics kids are looking for.
"Kids might like Batman, but they don't even know there's a Batman comic," said Robert Young of Borderlands Comics in Greenville, SC. "You'd be amazed at how many kids honestly don't know there are Star Wars comics."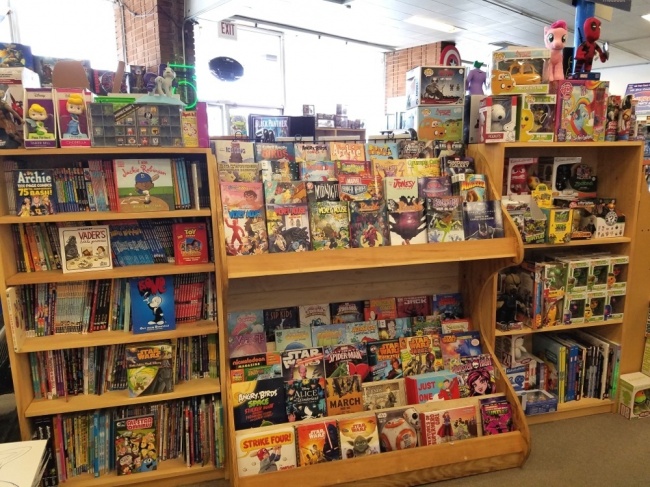 Young also cites both
Scooby-Doo
and the
Star Wars Golden Books
as great sellers and great gateways to hook both parents and kids. He said "The biggest things to look at are what the kids are seeing in TV, cartoons, and so on."
And those things might be outside of your monthly Diamond Previews.
"We actively source kids books through places other than Diamond," Jennifer Haines said. "Random House and Scholastic do great kids books and comics. Hyperion does the Percy Jackson adaptations, which sell well for us. Maybe a lot of those were sold through Diamond once, but then disappeared. So I actively source books from other publishers so we can have a wide, wide variety of kids books."
Wide, indeed. The Dragon stocks over 1300 books in their kids section. "They sell great to the book market, if not the comic book market, and we are a book store," Haines said. "I'm happy to carry all we can."
See all store images - plus more - in the gallery below.