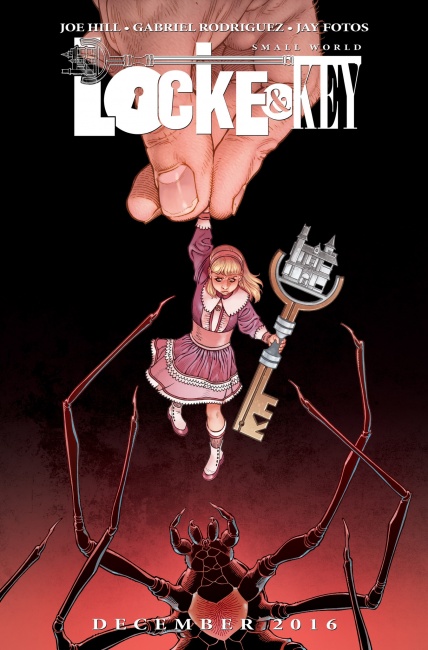 Joe Hill and Gabriel Rodriguez are returning to their Eisner Award-winning comic book series
Locke & Key
, the ingenious horror/thriller saga set in an ancient New England house full of enchanted keys that unlock different doors and activate different supernatural powers, for a one-shot comic that is due from IDW in December of 2016.
Locke & Key: Small World
tells a new story about one of the many keepers-of-the-keys in the Locke family, Mary Locke, and is set in the early 20th Century.
Hill discussed his plans for Locke & Key: Small World with the L.A. Times and also talked about the potential for a Locke & Key TV series, which is under development at IDW (see "Locke & Key Being Developed for TV"). Hill was quick to praise the Locke & Key pilot episode that Mark Romanek directed from a Josh Friedman script for Fox, saying "it really did everything you could have hoped for a pilot to do," but noted that conditions were quite different when Fox passed on the pilot five years ago (see "Fox Passes on Locke & Key") at a time before Netflix, Amazon, Hulu, and the rest of the streaming services, with their apparently never-ending appetite for new edgy material, had transformed the world of television.
Hill still doesn't seem certain that the show is going to get produced, but he is writing the adaptation this time, and he is hopeful: "This time I'm taking a swing at it, I'm working on the pilot. I'll tell you this though, and I think this is an important note: If we get to series, it really will be as good as what Mark Romanek and Josh did. It couldn't be better. It's really all a question of timing and persuading someone to take a risk on it, than it is about artistic quality. Because I think that, that earlier pilot was a terrific piece of work, it's too bad it didn't work out. "