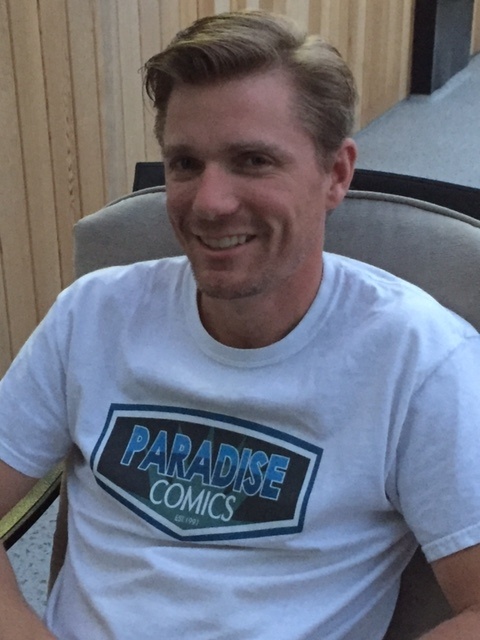 In Business 3x3, a business retailer or executive will share their experience with three things they've done right, three things they've done wrong, and what else they've learned along the way.
Peter Dixon has been pretty much everywhere on the retail end of the comics business: He's been a convention dealer, store owner, convention owner, product developer, and deal broker.
Dixon started dealing at conventions at age 16, and after high school, decided to take a year off off before university. He put in some time in the mailroom at Heinz Ketchup. "That obviously wasn't going to be a career," he says. "Just something I did for a bit while I tried to find myself."
He found an opportunity. Dixon had been frequenting Paradise Comics in Toronto since it opened in 1991. By 1994, owner Chris Friesen was tired of running the store. One loan from his parents later and at the age of 22, Dixon was the owner of Paradise Comics, which he operates to this day.
Dixon also operated the Paradise Toronto Comic Con from 2003-2009, and has learned a fair amount about business and life along the way.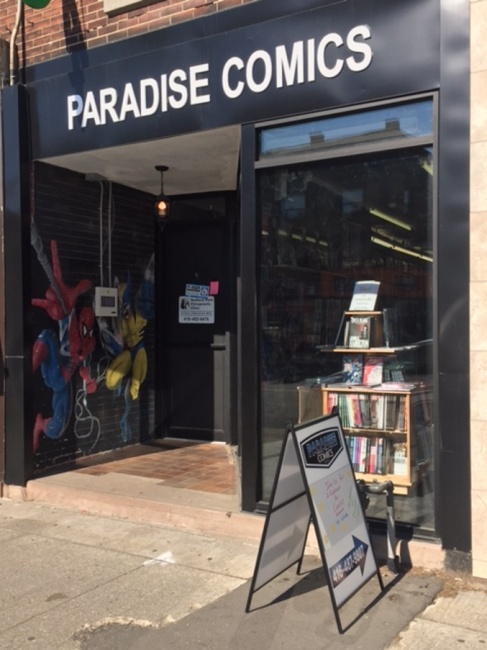 THE GOOD
Realize A Dollar Today Might Be $2 Tomorrow
"I never go for the fast buck," Dixon says. "There are other stores in town that get a reputation as a rip-off business, but I always try to keep prices low. You see a lot of price-gouging going on, but that's no way to maintain a long-term customer."
Dixon points to the "Gotta Catch 'em All" phase.
"When Pokemon cards were going crazy-crazy and we couldn't get anywhere near enough to satisfy demand, we kept prices realistic," he said. "We knew we couldn't make everyone happy, because we'd run out, but the customers we did make happy would remember us well. And we have 20-year customers here. You can maximize return out of every customer once… but I think you only get them once that way. I'd rather cultivate the long-term customer."
Start A New Product Line
Dixon is reluctant to take credit for actually starting it, but he was very integral in the launch of CGC's Signature Series line after Paradise's former owner signed on at CGC.
"I started chatting with Chris Friesen again" Dixon says. "We were talking about getting autographs, and I just read an article that said that likely more than half of all sports autographs in circulation were fraudulent. Hell, I know a guy who did jail time for forging Ty Cobb autographs on memorabilia! So I said, 'Hey, how can we insure that when people buy a Stan Lee-autographed book from me they have the trust, the assurance, in the signature and its authenticity?'"
CGC's Signature Series evolved from there. "Paul Litch really got excited and spearheaded the idea within CGC to help make it happen," Dixon recalls. "For a while, I was the first and the only Signature Series witness. And it's been great business for us."
Leverage Every Opportunity
Dixon spent years travelling to conventions throughout North America—so much so that Canadian customs agents started inquiring if he had a job in the U.S. Dixon didn't, but the networking paid off.
"My relationship with Heritage Auctions helped when I found the Toronto Collection," Dixon says.
A Toronto-area man had died with a collection of about 6000 vintage comics. His son-in-law came in to Paradise to do some research and buy some supplies, where Dixon chatted him up.
"He wanted to maximize the money, and he was in no rush," Dixon says. "I knew the people from Heritage and knew how they worked, so I recommended them. The collection sold for about $400,000, and I made a small percentage in the middle."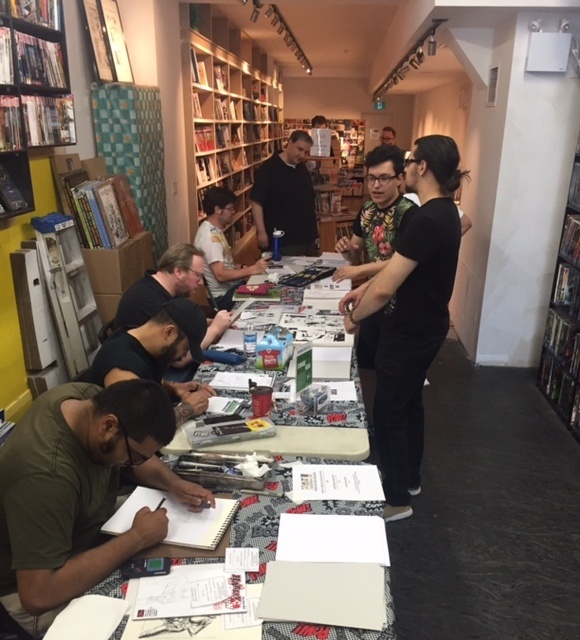 THE BAD
Don't Overextend Yourself
Did we mention lots of conventions?
"When I first opened the store, I was working a lot of hours, and I felt like I had to have my finger on everything," Dixon recalls. "Then I started putting on one-day shows, and later the multi-day Toronto Comic Con. Plus I was traveling to shows in Chicago, Philadelphia, San Diego, all over the place. And you burn yourself out a little."
Dixon finally realized he had to concentrate on his core business. He sold the Toronto Comic Con to Wizard World in 2009, and calls it, "one of the smartest things I'd ever done. It was just way too much work trying to do both."
Don't Dig In
Remember, Dixon came at comics very much from the collectible angle. He wanted his store to reflect that… until it couldn't.
"Early on, I said that I wasn't going to carry graphic novels; I was just going to carry the originals," he laughs. "Now granted, this was back in 1994 before collected editions and graphic novels really took off. But by now, could you imagine how many Fables #1-#6s I'd have to have if I was trying to sell all the originals? It took me a little while to get out of that mindset and overcome myself, but now, as with many stores, that back-catalog stuff sells better than new releases. You have to keep an open mind. Just because you think one way is the way to go, you can't have tunnel vision about it. When the system tells you you're wrong, you'd better listen."
Pay Attention!
Dixon calls his new-book ordering "a mistake in progress."
"I still have a long way to go in keeping track of my inventory, and in a very competitive market, if a new book doesn't sell in the first week, we're often lucky to sell it in a 50% sale later," he laments. "I'm still trying to solve my inventory and orders after all these years, and there are plenty of instances where I order 40 of a book and sell 10. I need to keep my finger right on that pulse to make sure I'm always on top of my current product sales. I'll let you know when I finally get it right."
AND WHAT ELSE?
"I admitted early on that I didn't have a clue what was going on in running my store. I was 22, so I didn't know everything I should about running a business. So I kept an open mind on everything. I looked around and took lessons and listened to advice from everyone—other retailers, my customers, anyone."
"I remember talking to Paul Litch of CGC one weekend in 2003 and he said, 'Hey, Peter, no offense, but I've seen you five out of the last seven weeks, and that's just too much. I see you more than I see my wife. I need to go home, and so do you.' That's when I was traveling to conventions, building up business. That's almost 15 years ago now, and that's a younger man's game, but again…too much. You have to realize the homefront has to take first priority."
"You have to take a long view on things. People ask me how you make money in San Diego, and I always tell them, 'Ask me again in five years.' It never fails that at any convention, any industry event, I'll meet people and make connections that will pay off in the long run. I meet people, bounce ideas, and some relationships result in setting up creator signings that are fun, and great experiences, and really profitable as well. But you can never expect that in the immediate. Things might take five years, or more."