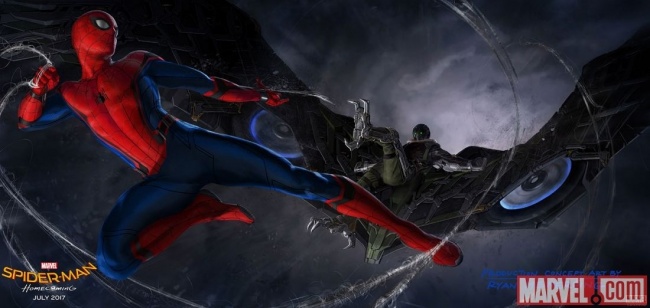 Michael Chernus has joined the cast of
Spider-Man: Homecoming
as Phineas Mason (aka The Tinkerer), the armorer of the underworld, who made his first appearance in
Spider-Man
#2 in April of 1963. In
Spider-Man: Homecoming
, which Jon Watts is directing for a July 7, 2017 debut, Chernus will likely be supplying deadly weapons to Michael Keaton, as the film's chief villain, The Vulture (see "
Late May Marvel Movie Round-Up
").
Deadline also reports that actress and stand-up comedian Martha Kelly has joined the Spider-Man: Homecoming cast in an as-yet-unspecified role along with Garcelle Beauvais and Tiffany Espensen, whose roles are also being kept under wraps, but who appear to be ideally suited to play some of Peter Parker's better looking high school classmates.
Meanwhile Spidermanews reports that UFC champion Tyron Woodley, who has done stunts in several major movies and has a role in the next Fast & Furious film, will be in Spider-Man: Homecoming, and, according to The Hollywood Reporter, the Australian actress Angourie Rice, who lights up the screen in Shane Black's highly underrated cop buddy movie, The Nice Guys, is joining Spider-Man: Homecoming in an "undisclosed" role.
Other Marvel casting news includes the confirmation that Oscar-winning actress Brie Larson will indeed play Carol Danvers in Marvel Studios' Captain Marvel (see "Brie Larson as Captain Marvel?"), and The Walking Dead's Danai Gurira, who plays the sword-wielding Michonne, has joined the cast of The Black Panther, which also stars Chadwick Boseman, Lupita Nyong'o, and Michael Boseman (see "Mid-May Marvel Movie Round-Up").
In other superhero movie casting news, Variety reports that Welsh actor Julian Lewis Jones has joined the cast of Zack Snyder's Justice League film in an unspecified role.
Streaming service Netflix picked up the live-action westernized adaptation of Death Note after Warner Bros. dropped it (see "Netflix Picks Up Live-Action Death Note"), and now Mashable reports that Willem Dafoe will provide the voice for Ryuk, the Shinigami in Adam Wingard's adaptation of the hugely popular manga series, while Shea Whigam (Boardwalk Empire) will play internal affairs officer James Turner, the father of Light Turner, the student who discovers the Shinigami's notebook and decides to use it to rid the world of some evil people, thus setting in motion the intricate plot of this saga of the teen-who-played-god.
Finally, Deadline reports that Lennie James, who plays Morgan Jones on The Walking Dead, is joining the cast of the Bladerunner sequel that Denis Villeneuve is directing with a cast that also includes Harrison Ford, Ryan Gosling, Robin Wright, Dave Bautista, Sylvia Hoeks, and Mackenzie Davis (see "Mid-June Geek Casting Round-Up").