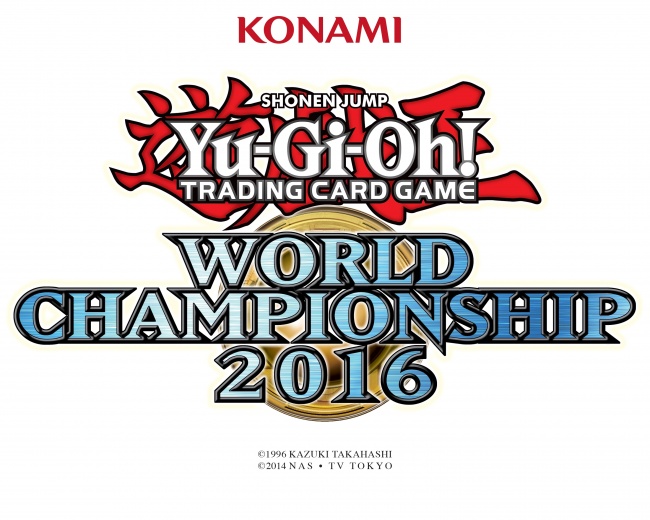 Konami Digital Entertainment will host the invitation-only World Championship for its
Yu-Gi-Oh!
Trading Card Game in Orlando, Florida on August 20 – 21 at the Orange County Convention Center.
After a year of intense Dueling, the 22 best Duelists and 12 Dragon Duelists (players born 2003 or later) have been found to compete for the titles of Yu-Gi-Oh! Trading Card Game World Champion and Dragon Duel World Champion.
While the finalists from around the world are dueling, the 2016 Yu-Gi-Oh! Trading Card Game World Championship offers a host of free Public Events including 2017 Regional Qualifies, Dragon Duel Tournaments, Attack of the Giant Card!!, Win-A-Mat, and Generation Duel.
In addition, Konami is hosting voice actors Dan Green and Eric Stuart, the voices of Yugi Muto and Seto Kaiba from the original Yu-Gi-Oh! TV series. The actors will perform a live Duel as their respective characters. Attendees can also create their own Token Card featuring all-new backgrounds, compete with other Duelists using giant cards in a Mega Duel, and fans can voice a character in the upcoming Yu-Gi-Oh! Dark Side of Dimensions movie.
The first place winner will take home the 2016 World Championship Trophy 2016; Platinum Secret Yu-Gi-Oh! 2016 World Championship Platinum Secret Prize Card for 1st Place; an Invite to the 2017 World Championship Event; Paid travel and accommodations to the 2017 World Championship Event; a World Championship Game Mat; World Championship Card Sleeves; Personalized Shirt; World Championship Win-A-Mat; World Championship Messenger Bag; 24 booster packs of The Dark Illusion; 15 packs of the Japanese version of Destiny Soldiers; and World Championship branded Scorepad, Lanyard and Pen.