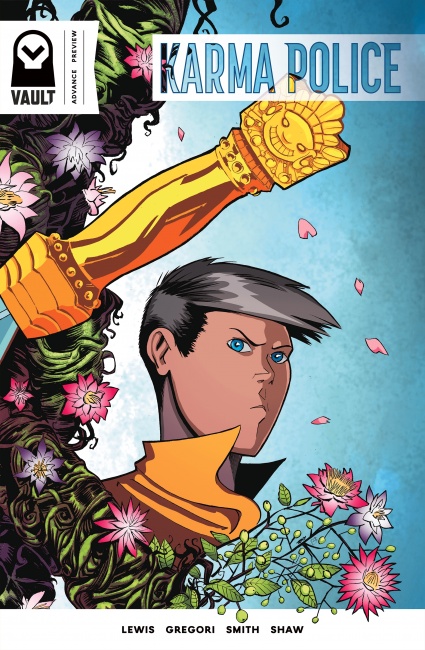 New comics publisher Vault Comics has announced the first titles it will launch in early 2017 and shared news on development deals for several titles.
The company, which focuses on original, creator-owned science fiction and fantasy comics, was founded by Adrian Wassel, Damian Wassel, and Nathan Gooden. "Science fiction and fantasy continue to lead the way in diversity among creators and readers," said Adrian Wassel, Vault Editor-in-Chief. "These genres grant the disenfranchised voices. They create landscapes in which the establishment has fallen. They place minorities, both real and imagined, at the helm of their narratives. They pull apart conceptions of race, gender, and social identity. As genres, they ask some of the hardest questions, and are often the only genres gutsy enough to venture answers, too. Of course it helps that these are four-quadrant genres with historically strong sales and explosive recent growth. But that's really just the icing on the cake."
Karma Police is written by Chris Lewis (Drones), with art by Tony Gregori. The story follows Jack Allen, a woman who is recognized as the reincarnation of a Tibetan monk. Jack is trained as a compassionate assassin and sent out to stop the violence in the world. Release is planned for February 1.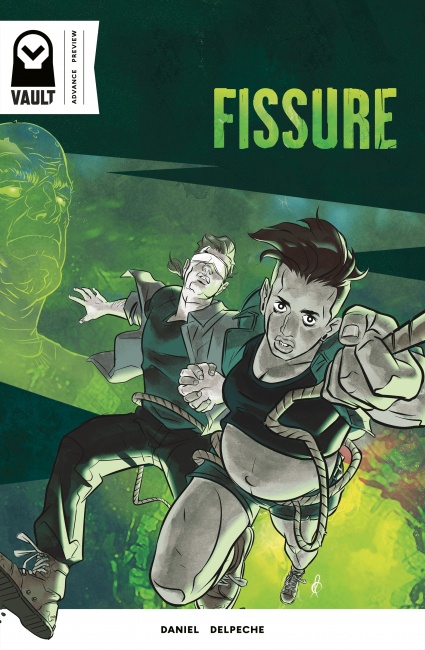 Fissure
is written by Tim Daniel (
Enormous, Burning Fields
), with art by Pato Delpeche. The story takes place in El Sueno, Texas, where a sinkhole suddenly appears, engulfing the town's main street. Avery Lee Olmos and Hark Wright are a young couple caught in the chaos, trying to escape the sinkhole and the malevolent force at the bottom of it. Release is planned for February 8.
Failsafe is written by F.J. DeSanto (Transformers: Combiner Wars, Cyborg 009) and Todd Farmer, with art by Federico Dallocchio (Suicide Squad: Kicked in the Teeth). John Ravane thought he'd executed the last nanotech-enhanced super soldier 10 years ago. In the midst of social unrest, sleeper agents activate, and Ravane must decide if he can trust the government or the soldiers he once hunted. Release is planned for February 15.
Colossi is written by Ricardo Mo (Propeller), with art by Alberto Muriel (Propeller). Trans Atmos Shuttle 34 is sucked into a wormhole and emerge in an alternate universe, where everything is giant. They'll have to work together to survive the hostile environment and the looming threat that hitched a ride on the shuttle. Release is planned for February 22.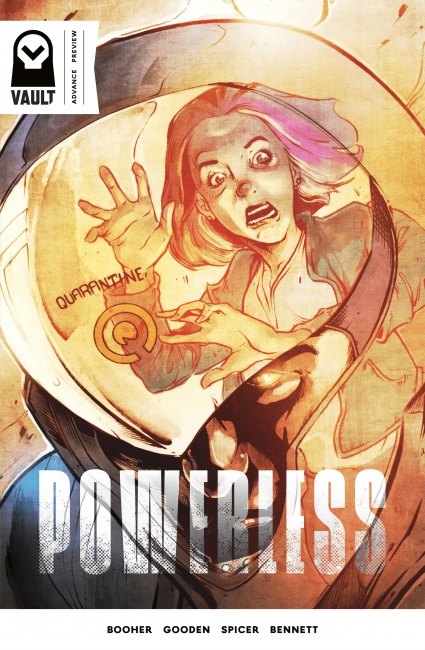 Powerless
is written by David M Booher, with art by Nathan C. Gooden (
Killbox
). The series is set in a world where everyone has superpowers, until a virus destroys those abilities. A worldwide quarantine is enacted, and elite agent Billy is tasked with helping to stop the spread. Release is planned for March 1.
THR is reporting several future titles written by Tim Daniel (Enormous) are being developed as Hollywood adaptations by Hitman: Agent 47 producer Adrian Askarieh and Silver Fox Entertainment's F. J. DeSanto. The titles will be published in 2017.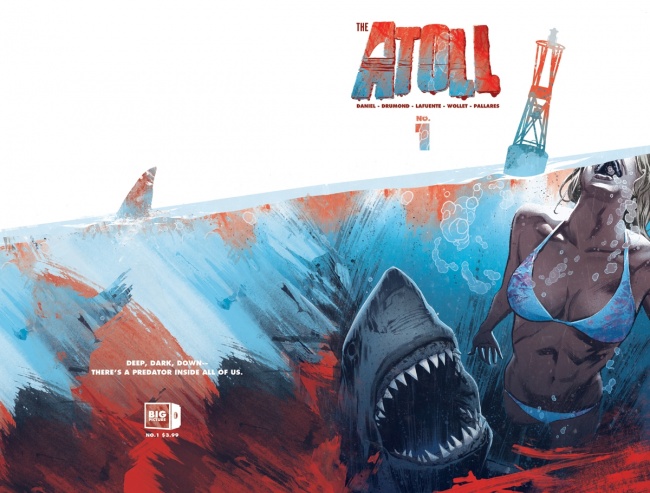 The Atoll
follows an Olympic athlete who is kidnapped and taken to Australia where she becomes a contestant in a grizzly combat game where people are forced to fight a 21-foot Great White shark.
Spiritus takes place in a world where criminals have their consciousness relocated into labor machines. An MMA fighter who was convicted of killing her husband finds herself drawn into a plot by a prison syndicate leader to build an army of free machines to overthrow the prison.
Morning Star follows a mother who has lost her forest firefighter husband. She takes her children to the park where he died hoping to get some closure, but she is thrust into an otherworldly experience.
Fissure, mentioned above, is also being developed for an adaptation.
(See covers for all the releases in the gallery below.)