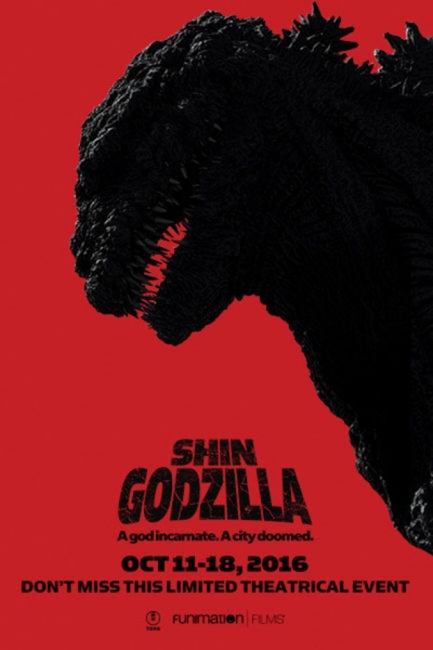 FUNimation Entertainment will release TOHO's
Godzilla: Resurgence
(
Shin Godzilla
) into U.S. theaters October 11 – 18. FUNimation announced plans for the U.S. theatrical run in July (see "
TOHO's 'Godzilla Resurgence' Gets U.S. Release
").
ANN
reported that the Fandango ticketing website had unveiled the American theatrical poster, which also listed the dates. The film will be shown in IMAX, MX4D and 4DX.
The film was extremely popular in Japan. It has sold 3.6 million tickets and earned 5.3 billion yen ($51.63 million U.S.) so far. The film opened on July 29 on 441 screens, and topped the Japanese box office for two weeks straight. It was #2 for the third and fourth weeks, and finally fell to #3 in the fifth.
The current plot synopsis on Fandango reads:
A massive, gilled monster emerges from the deep and begins tearing through Tokyo, leaving nothing but destruction in its wake. A rag-tag team of volunteers cuts through a web of red tape to uncover the monster's weakness.
TOHO is planning to release a new animated Godzilla movie in 2017 (see "
Toho Plans 'Godzilla' Animated Feature
").