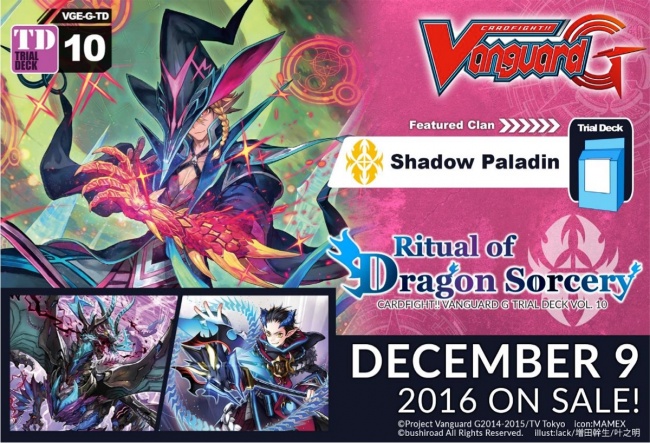 A new
Trial Deck
for Bushiroad's
Cardfight!! Vanguard G
trading card game,
Ritual of Dragon Sorcery
, and a new
Clan Booster
set,
Divine Dragon Caper,
will both release in December.
Based on the deck used by the newest character in the Cardfight!! Vanguard G NEXT animated series, the Ritual of Dragon Sorcery hits the streets on December 9. This Trial Deck features the Shadow Paladin clan and introduces the new Ritual ability. The pre-constructed deck comes with a total of 52 cards of 18 different types, including 17 cards exclusive to this deck and 1 reissued card, as well as 4 holo cards. Each deck also includes a starter's guide, playmat, Shadow Paladin clan card, and a postcard sporting a preview illustration from the next season of the animated show.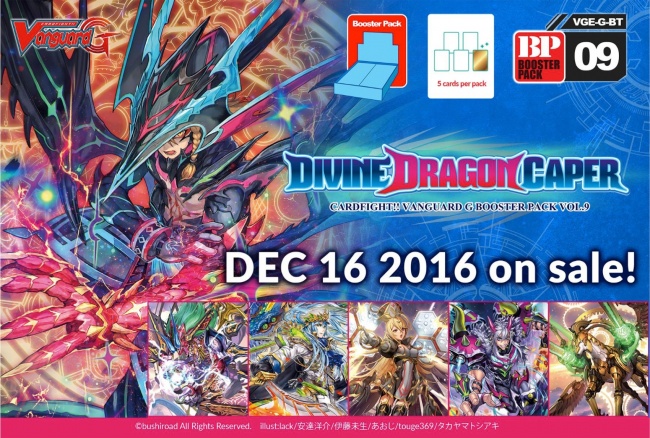 The
Divine Dragon Caper
expansion follows on December 16, and includes cards designed to work with the
Ritual of Dragon Sorcery
deck and new trump cards. This expansion will be packaged in five-card booster packs, sold in 30-pack displays. The total set will include 104 cards with these rarities: 2 GR, 8 RRR, 12 RR, 22 R, and 60 C. There will also be 2 SGR parallel and 12 SP parallel cards, and 5 special reissue cards from the
SP Clan Pack
with new artwork packed randomly in some boosters. Each booster will have one R rarity or above card. As an incentive, those who pre-order will receive an exclusive playmat for each carton ordered.

Retailers can hold a pre-release event scheduled for the weekend that
Ritual of Dragon Sorcery
releases, December 9-11, by ordering the
Divine Dragon Caper Sneak Preview Kit
. Each kit includes 48 booster packs (enough for eight players), 9 promo cards, and 2 premium rubber playmats.
The new expansions will follow the Gear of Fate Clan Booster and True Zodiac Time Beasts Trial Deck, both releasing on November 4 (see "New 'Clan Booster' and 'Trial Deck' for 'Cardfight!! Vanguard G'").