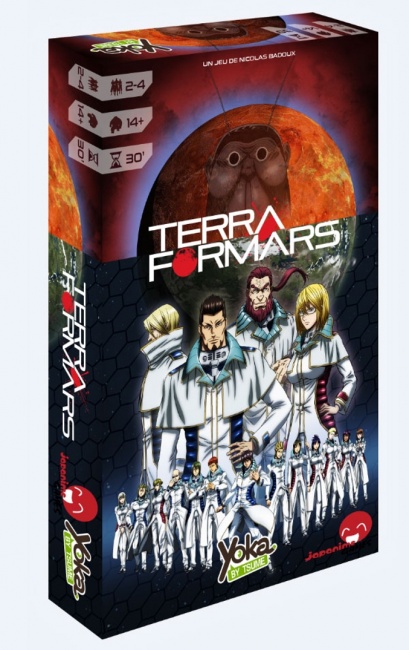 Japanime Games is partnering with Yoka by Tsume Games to produce a Terra Formars card game this November.

Players are a group of Earth-based heroes sent to Mars to take back the planet from monstrous, humanoid cockroaches so that humanity may settle the planet. Designed by Nicolas Badoux (Naruto Shippuden: The Board Game), the game uses a combination of unique dice and cards, a balanced resource management system, and includes elements of player intrigue and treachery. Players use seven unique dice to buy cards to enhance their characters and acquire the best kills, sometimes stealing them out from under an opponent. The player with the top kills wins the game.

The card game is based on the Sci-Fi/Horror anime Terra Formars from VIZ Media, which was also released as a manga by VIZ in 2014 (see "Viz 2014 Releases").

Japanime Games and Yoka by Tsume Games will be showing the game at Essen Spiel. MSRP for Terra Formars is $25.00.