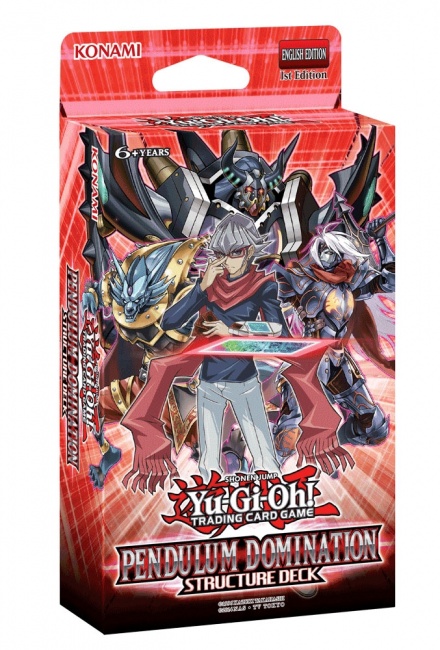 Konami has revealed its Pendulum Domination Structure Deck for Yu-Gi-Oh! TCG, which releases in January.

The 43-card deck commands Fusion, Synchro, and Xyz Monsters employing a Pendulum Summoning strategy using "D/D" monsters and "Dark Contract" cards which move your monsters between zones for a massive ATK boost, and other advantages. This risky strategy can have an adverse affect on life, so one must take care when employing it. The new "D/D" monsters were designed to match well with the D/D/D Flame King Genghis and D/D/D Gust King Alexander and other cards from the 2016 Mega-Tins and 2016 Mega-Tin Mega-Packs, and Konami plans to release more cards in 2017 to further strategies employed in the Pendulum Domination Structure Deck.

The deck contains two Ultra Rare cards, three Super Rare cards, 38 Common cards, a Beginner's Guide, and a double-sided Deluxe Game Mat/Dueling Guide. It releases on January 20, 2017.

ICv2 first reported on the Pendulum Domination Structure Deck in the spring of this year ("'Yu-Gi-Oh!' Mega Tins Revealed").