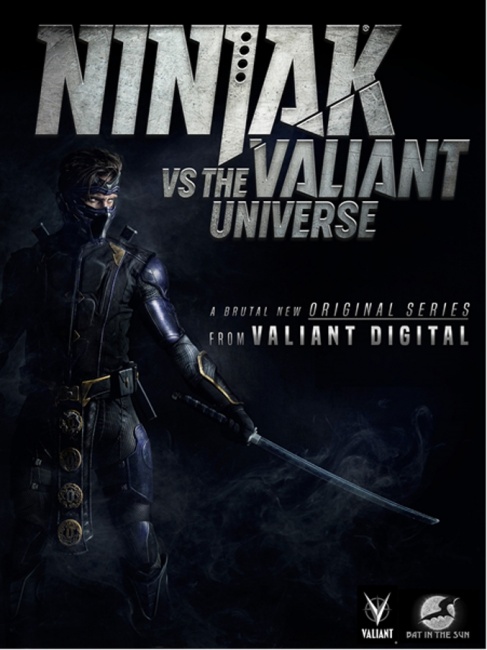 At New York Comic Con, Valiant Entertainment unveiled Valiant Digital, a new division which will produce original content in live-action, animation and emerging media. It also debuted the trailer for Ninjak vs The Valiant Universe, its first project.

"With major projects in film, television, and gaming already well underway, Valiant Digital is the next strategic evolution of Valiant's long-term plan to expand the ranks of its already sizable fanbase around the world," said Valiant Chief Operating Officer Gavin Cuneo. "In years past, it wasn't uncommon for comic book publishers to prime new fans by expanding into Saturday morning animation or short-form programming. Today, that demographic has largely migrated online."

Ninjak vs. The Valiant Universe is directed by Aaron & Sean Schoenke of Bat in the Sun Productions, and written by Aaron Schoenke, Sean Schoenke, and Joe Harris. The series is produced by Dinesh Shamdasani, Josh Johns, and Gavin Cuneo for Valiant Entertainment. Michael Rowe (The CW's Arrow and The Flash) stars as Colin King aka Ninjak; with Jason David Frank (Power Rangers) as Bloodshot; John Morrison (WWE, El Rey's Lucha Underground) as the Eternal Warrior; Chantelle Barry (90210, Entourage) as Roku; Kevin Porter (Dodgeball) as Armstrong; Ciera Foster (Two and a Half Men) as Livewire, and Derek Theler (ABC's Baby Daddy) as X-O Manowar.

The plot synopsis reads: Colin King is Ninjak, MI-6's deadliest intelligence operative and weapons expert. When the ruthless assassin Roku exploits his greatest weakness, Ninjak will be forced to betray his closest allies. Now, on the run, he must face off against the most powerful heroes known to man for a high-octane, take-no-prisoners trial by fire more perilous and more unpredictable than any he's faced before. In 2017, the world's most dangerous super-spy goes to war with the Valiant Universe…

Valiant Entertainment also has a five-film deal with Sony for features based on their comic books. The order for development was recently flipped, putting a Harbinger movie at the front of the pack (see "'Hot Wheels' Film Finds Director, Valiant Flips Movie Order").

The Ninjak series will debut online in 2017.