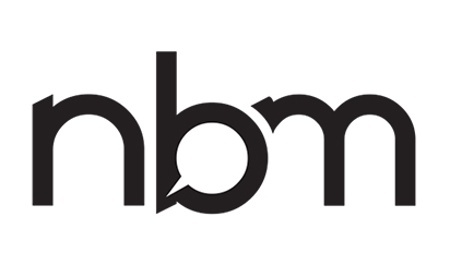 In conjunction with BD Week, we caught up with NBM and Papercutz Publisher Terry Nantier to talk about his amazing 40-year history of publishing BD in America, the state of the market, lessons from the French market, the best sellers, and important upcoming titles.
ICv2: Can you give us a brief overview of how you became involved with publishing BD?
My interest in comics got really spurred while I was growing up as a teenager in Paris. My father had gotten a job in France and we moved over there, and I became a fan of BD. This was during the 70s when things were really going through a revolution. Pilote and Goscinny and everything were really prompting very new comics with a lot of incredible new creativity and new artists, which then split out into a whole bunch of extraordinary magazines that were really moving comics is all sorts of new directions.
I saw that graphic novels over there, the format, was very much a motor for this. It was good printing, regular books, none of which we had scene here in the U.S. I got the idea of 'why don't we have this in the U.S.?'
When I came back for college here, I decided to form NBM Publishing starting with bringing in BD as an example of where comics can go, especially in the form of graphic novels. The name had barely been invented by Will Eisner and gotten around yet, so there was still a question of how to name this.
When was NBM founded?
The company was founded officially in September of 1976, but the first book came out in March of 1977.
Was that a BD?
Yes, it was. It was called
Racket Rumba
and it was sort of a
Mad Magazine
-inspired spoof of noir, very goofy, by a great artist, Jean-Marc Loro.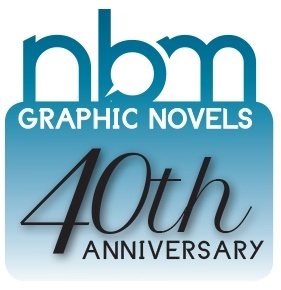 And then over the subsequent 40 years, you published more BD.
Absolutely. We went on to publish quite a bit. We never had the intention of being just BD. It's been, after the first few years, sort of a 50-50 mix.
We've always kept bringing in what we felt had any chance here in the U.S. We were the first to publish
Corto Maltese
[by Hugo Pratt] here, and
The Mercenary
[by V. Segrelles] was a great success. That was one of the first fully painted graphic novel series in the world. We've got quite a list of great authors that we've published from many countries of Europe.
How it BD different from American comics?
It's all over. It can go fantasy to regular fiction. For a long time it was based on a 48- to 64-page hardcover format at least 8-1/2"x11", if not 9"x12". That is pretty much still the basic formats that BD are sold in and are most popular in but that's expanded as well to much longer graphic novels of hundreds of pages and collections and omnibuses and so forth in different formats, smaller as well.
The main style historically is Franco-Belgian comics. The Belgians had a very strong hand in the development of French language comics both with
Spirou
and then
Tintin
, and
Spirou
also involved various other strips that are better known here like
Smurfs
. There's a lot of creativity and a lot of autonomy, really adhering closer to a book form and ultimately being in a book form, and with that mindset way earlier than we ever got to that here in the U.S.
How would you assess the current state of the market for BD here in the U.S. and how does that compare to how it's been in the past?
It's definitely developed quite a bit. A lot more publishers are doing BD, and as a result there's a lot more acceptance and knowledge. There's a tremendous amount of wonderful comics that are done over there, so there's a lot of room to grow and for different publishers to be in this. We now have a lot of company, where for a while we were the only ones or may have had only one competitor and that was Catalan Communications back in the 80s. That's been quite positive. I think people are seeing the extent of what can be found in Europe a lot more so than had been the case for a long time.
Who's the audience for BD here?
I think so far it's more an intellectual audience. It may have some similarities to those who like foreign movies and go see that in more specialized movie houses or maybe on campuses. That's certainly our audience for NBM.
I've not mentioned so far Papercutz, for which we're bringing in children's comics from Europe.
Ariol
is the leading one that's gotten very good reception here. That has a little bit of that European sensibility in that it's not anything fabulous or sensational, fantasy or anything outlandish. It's a journal of a nine-year-old. The nine-year-old happens to be a donkey, but he happens to be going through trials and tribulations of a typical nine-year-old that can be seen anywhere in the world. That's worked quite well. We've had other series that are say on themes of dance or dinosaurs and such that we've brought in with Papercutz that have more a potential mass market appeal. NBM has been narrowing its focus on more of the literary end.
Other than Papercutz being for kids, what's the target demo look like?
For NBM it's been college age and above, primarily, but our books can be of interest to YA as well. Primarily we're aiming at an 18 to 34 audience of readers who like something a little more challenging to read.
Male:female?
It can be either way. We're very proud that books like
Dior
can be a lot of fun for women, too.
So close to 50:50?
That's what we're shooting for and that's was I think we're getting close to in the marketplace.
Wouldn't Smurfs be one of the Papercutz titles with the broadest appeal?
Right. That's an example of mass market in full bloom. Millions of copies of that series have been sold worldwide. We've been happy to see that there's been a great acceptance, especially in comics stores from the beginning for this series. We're very excited, in fact, for the third movie that's coming out in early April, which is taking a different tack on that. It's all animated, very beautifully animated, this time, much closer to Peyo's original art and has a great story with a real reveal that kind of revolutionizes the whole world of the Smurfs, so we're very excited about it (see "
First Look at 'Smurfs: The Lost Village'
"). I think people were a liitle disappointed by the first two movies, especially the second one, and this one will not disappoint in that way.
Where do you see the biggest opportunity going forward for BD? Which audiences, what kind of books? How can retailers take advantage of some of this growing acceptance and breadth of material?
I think it complements a lot of what's being done in graphic novels in general. The creators here have been inspired by European comics now for some time, ever since
Heavy Metal
came out and our books and other books from Catalan and so forth. There's been a convergence. There's artists that are very closely inspired by European comics that are big here, even all the way to Frank Miller, who's inspired by Hugo Pratt. The fit is a lot closer than people may believe. There's a lot that's more, say, fantasy and genre and action that can work here in the U.S. as well. It shouldn't be separated; it should be within all of the graphic novels that are made available.
You're saying not to create a separate BD section, just put it with whatever the genre or the audience fit is the rest of the store?
I would say yes. I wouldn't want to ghettoize. You could argue that manga is generally set out separately, but Japanese manga has a very set kind of look that doesn't deviate a great deal. European comics is not that. It can be completely goofy humor all the way to fully realistic, high action fantasy to science fiction. I don't think it should be in its own department.
What are some of the trends in the BD market in Europe? Anything you see there that might be instructive for future trends here?
Things have been fairly stable in France the last couple of years. I don't know that there's any overarching trends in the recent history. There's some important trends in the last decade or so of more indie comics and lengthier graphic novels, and getting away from that rigid format of the 48- to 64-page taller graphic novel.
There's a lot of paperbacks, a lot of different formats, a lot of mixing up that's been going on which is really quite exciting and creates a lot more opportunity for storytelling. In that sense, it's a lot closer to what we see here anyway.
We still have a ways to go as far as acceptance of comics in our country that you can see in France and some other European countries.
Le Monde,
which is like
The New York Times
of France, will regularly serialize comics at least online (maybe not in the newspaper), or have specials available, especially during the summer, as promotion. You have kids' magazines and women's magazines that serialize and review graphic novels regularly. Those are things we're not seeing here yet. There's plenty more that I could mention that we can dream of to attain here in the United States, but it is amazing, the penetration of comics in the French culture.
Is part of that because in America people perceive comics as superheroes, science fiction, and so on where there isn't that history of being associated with those more fantastic genres in France?
Yes. It wasn't like that all the time. The 70s were exciting because up to that point, the perception was just as bad there as it was here. In fact it wasn't even something your kids should read, but
Asterix
really turned that around. There was a whole generation that had already grown up with
Tintin
anyway and was enjoying the satire in
Asterix
, and seeing the sophistication of that while it was still a story that was fun for kids as well. It truly was an all-ages phenomenon. That's when the younger generation really started turning around the attitude toward comics and seeing the art behind the comic art.
There's a lot of political references in Asterix that the kids might not get, but the adults would enjoy.
Exactly right.
What are your most popular releases from NBM right now?
We've been increasingly doing biographies which have been doing quite well. It looks like we're about to sell out on our first printing of
Thoreau
which was the first full-on biography.
A
Girl in
Dior
that we brought out last year was sort of a light biography with a story that went back to press three times. We've sold over 10,000 copies of that. It was beautiful and we're doing more by Goetzinger. We just brought out her
Marie Antoinette
, which is also a biography with a heavy ghost story to it. We're doing Glenn Gould, Elvis Presley. We're going to be doing Sartre next year, but we continue with fiction too. The big book we brought out recently (and brought the author, Cyril Pedrosa, over) was
Equinoxes,
which is a remarkable graphic novel that we're very proud to bring out. It continues to push the boundaries of where comics can go in many ways. Pedrosa is one of the greatest artists out there as far as I'm concerned.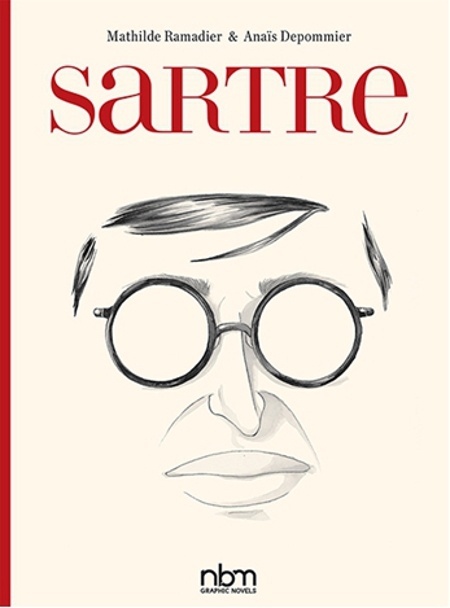 What are the biggest releases that you're looking forward to for both NBM and Papcutz in the next six to nine months?
I mentioned that
Sartre
is a biography that's coming out next year. We continue the Louvre books and that's been quite successful. That's a collection that's done together with the Louvre where they commission artists to make a story, any kind of story that involves the Louvre museum in some way. It can even be critical, which is the amazing part.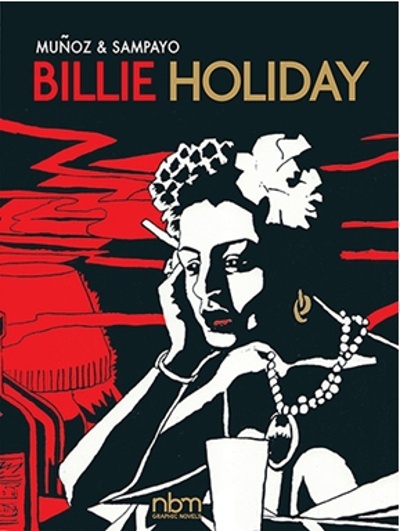 On the NBM BD side, one thing I'm excited about is the biography of Billie Holiday by Munoz and Sampayo, which we're bringing back out. It was out in the U.S. quite a while ago. That'll be coming out in May. It's really beautiful, harsh art, black and white that lends itself to Billie Holiday's stormy existence.
On the Papercutz side, besides
The Smurfs
that we're looking forward to getting a real boost on, we're releasing
Sea Creatures
very soon. It's a little like
The Dinosaurs
series, so it presents marine animal life in one-pagers, in a very fun, humorous way. That's also a good way to learn about things for kids, maybe show off to their friends what they know. That's another series we're excited about coming from France.
Within the Charmz line that we just announced, the romance line for tween girls with an adventure element generally (see "
New Graphic Novel Imprint for Tween Girls
"), we've got two series coming, a general school and family, those two series, about what they're dealing with and how they're dealing with it in ways that kids from anywhere can relate to.