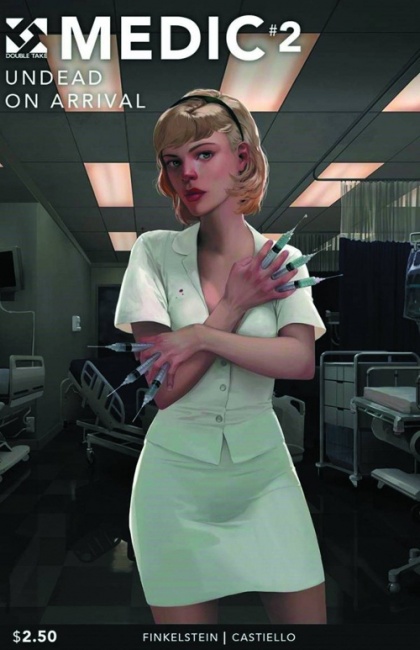 Double Take, the comic publishing arm of video game company Take Two Interactive (
Grand Theft Auto, Bioshock
) will shut down at the end of November, ICv2 has confirmed. Besides its deep-pocketed backer, the company was also notable for its publisher, Bill Jemas, COO at Marvel during a turbulent time in the early 00s. Double Take had just announced four new series (see "
Double Take Ventures into New Territory
"), including three spun out of its original
Night of the Living Dead
-based universe and one new original IP.
The company launched with ten titles in September 2015, and in a packaging innovation sold all ten issues in a Superpack, and continued the all-in-one package through the five issues of the initial miniseries. That allowed placement in bookstores and higher ticket sales in comic stores. Double Take also launched a digital app for reading its titles.
Jemas reflected on the launch of Double Take in two interviews with ICv2 over the last few months, with perhaps his most noteworthy observation, comparing his experience at Double Take with Marvel, was "how difficult it is to run an indie company."
"I was very, very spoiled at Marvel," he said (see "
ICv2 Conversation: Double Take's Bill Jemas, One Year Later
"), noting "…just how few retailers, relatively speaking, have the willingness and/or wherewithal to place an indie publisher. That has been much harder than I thought. I'm happy with the retailers who have taken us. They're happy and we're happy with the sell-through rates. But that initial placement, that's really banging through a brick wall with your head. Because you don't have many tools--just banging with your head and little bit of money. That's been much harder than I thought it'd be."
In an ICv2 feature article focusing on lessons learned (see "
Business 3X3: Bill Jemas at Double Take
"), Jemas was philosophical about the launch. "I'm not complaining about our launch. I just think it could have been better. If you look at the books, look at the reviews, look at the stores that really 'get' us and the results they're getting, it's good. And it's replicable. I don't worry about trying and failing. I think the only mistake is not trying."
Double Take did not respond to a request for comment in time for this article. The news of the shutdown was first reported by
Bleeding Cool
.