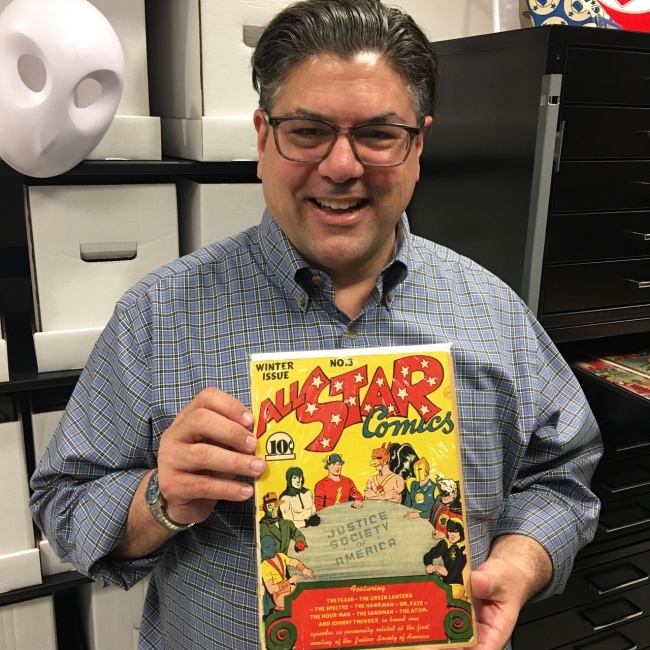 In Business 3x3, a business retailer or executive will share their experience with three things they've done right, three things they've done wrong, and what else they've learned along the way.
Many people want to use comics as a springboard to get into show business. Carr D'Angelo wound up taking the reverse path.
After editorial gigs at Starlog and Fangoria magazines, D'Angelo moved to Los Angeles where he landed a job for Universal Studios. He rose quickly through the ranks, starting off as a script reader, and later becoming a development executive and production executive. Circa 2001-2002, he was a producer on the Rob Schneider comedies The Animal and The Hot Chick. But there was something else on his mind.
"I was looking at the comic book market, and I was excited by it," D'Angelo says. "It was the rise of the graphic novel, comics were moving into bookstores, there was Comic Relief, the comic 'book' store, and trade paperbacks really looked like the wave of the future."
D'Angelo was sure that a comic store focused through a bookstore lens could be a hit in L.A.
"I kept wondering why no stores in Los Angeles used a bookstore model," he says. "And finally [my wife] Susan said, 'Well, maybe you should do it.'"
D'Angelo did, and founded Earth-2 Comics in Sherman Oaks in 2003. Along the way, he's learned a lot about his model and how it works…and doesn't.
THE GOOD
Come in with a Vision
D'Angelo thinks his "bookstore first" model helped put Earth-2 on the map.
"It gave us a leg up initially, because I think there are always new customers out there, but to so many potential newbies, their image is still [The Simpsons'] The Android's Dungeon," he says. "Now that image is largely untrue and L.A. has great comic stores, but you have to combat that image. I knew there were people like me looking for stuff like this. We started by saying 'books, books, books,' and really built up an audience."
The store's location on Ventura Blvd., the heart of L.A.'s San Fernando Valley, is also key.
"We get people who drop in while they're waiting for a table at a restaurant, or people who browse while a family member is at another store down the street," D'Angelo says. "It's great. We'll have grandmothers who come in, and while their grandkids are running around finding comics and things they like, they'll remark, 'I'm surprised! This is such a nice, nice store.'"
Expand!
When destiny and the cash register come knocking, you should answer.
"The 2007-2008 period was very strong for us, and I felt a bit bursting at the seams," D'Angelo remembers. "And…this sounds crazy, but having Earth-2 as our name led to people who always asked, 'Well, where is Earth-1?' They just assumed we must have two stores."
The second store became reality in 2009 when D'Angelo bough Golden Apple's satellite store in Northridge. The store was nine miles away, and just steps from a California State University campus with 35,000 undergrads.
"It made sense for a lot of reasons," D'Angelo says. "Part of it was getting into the college audience, which is a very reliable business in this market. And it improved our economy of scale with higher discounts and so on."
D'Angelo has used his larger purchasing power to stay stocked.
"When a big book comes out, I want to make sure we have it," he says. "When it's Batman #608 by Jeph Loeb and Jim Lee, many stores still sold out, despite the fact that, yes, we all should have known as comic store guys that it would sell a few more copies. To build readers, I think we have to have those jumping-on points always available. The second store gives us a second market to go deeper into a lot of those 'main' issues, and we hear it a lot, people who say, 'Yeah, my regular store was sold out of this so I came here.'"
Invest in Back Issues
The bookstore model was the dream. Who knew it would be a used bookstore, too?
"Comics is a vast hobby," D'Angelo says. "In the past five years, I've increased the percentage of our sales that are back issues to about 10% as opposed to about 3% just those five years ago."
D'Angelo has become an aggressive buyer.
"It's not just last month's stuff that we just took off the rack," he says. "A lot of the sales are comics that pre-existed the opening of the store. We buy back, we buy collections."
And D'Angelo has become enamored of the thrill of the chase.
"Todd McDevitt pointed it out—you never know what you're going to find," he laughs. "It's both profitable and fun to find the book that no one cared about last year, but now it's the hot back issue."
THE BAD
Don't Let Your Vision Get in Your Way
D'Angelo had his vision. But ultimately, his customers told him what direction his stores would take.
"In 2003, when I opened the store, I thought periodicals were going to go away, and we wouldn't have a back-issue section at all," he says. "That's what I was wrong about. And I'm so happy to be wrong about it."
D'Angelo says he's happy to see an eclectic mix of occasional drop-ins, hardcore collectors, and ever the new blood.
"Just today, someone in the store was looking for some Walking Dead issues from about six months ago," he says. "And even though those comics are collected in a trade, he said, 'No, no, no. I'm trying to fill in my collection.' You have to serve everyone, and that means the person who only collects X-Men and the person who wants back issues."
And within a few hours, Earth-2 also sold two Walking Dead omnibus editions.
"Especially with a book like The Walking Dead, I have to have #1 CGC'd, I have to have the paperbacks, and I have to have the hardcovers in stock," D'Angelo says. "People will consume it as they want to. I was wrong to think that the customer base was going to change to my vision."
Don't Micromanage (Too Much)
D'Angelo admits that in terms of management style, he sits at an odd crossroads.
"I'm a big picture guy who micromanages, and that causes its own conflict," he laughs. "I'd love to be able to tell my staff, 'Here's what we're going for,' and have them figure out the ways to accomplish it, but I fear I'm telling them, 'Do things exactly the way I would do them.'"
D'Angelo is making himself a work-in-progress.
"It's hard to get all my ideas of sales, merchandising, and space considerations to my staff in a way they can process," he says. "When I walk into the stores and something's not perfect to my mind, I need to find the right way to make sure I communicate an idea and adjust things in a way that's good for everyone."
Ultimately, D'Angelo thinks he has great staff, and is getting there.
"Each of our staffers has a unique voice, and can make recommendations in their own way to customers," he says. "They might not be my specific recommendations, but they're good in their own way. I have to respect that that everyone doesn't do everything exactly in the way I would do it, but also make sure that the main overall goals are satisfied."
Always Hire Right
Like anyone, D'Angelo admits he's had some bad hires in the past. He makes a family analogy.
"Your business is your home, and you have to make sure you trust the people who you're bringing in," he says. "I've made some bad decisions there, and if you bring someone in who doesn't mesh well with the rest of your staff, it can really throw off the balance and the morale, throw off this kind of family."
D'Angelo's new standard? Be better than him.
"I say to my staff, hopefully humorously, that I should be the worst person they should have to deal with," he laughs. "If I'm the one they can all unite against, then I'm hiring right."
AND WHAT ELSE?
"When I was at Universal, I was trying to develop comic book properties. But it was after Batman, and before the [2002] Spider-Man movie. Unfortunately, in that place and time, nobody knew what to do with superheroes."
"I had two movies back to back, then spent the next two years in development hell. You never get a formal letter that you've been asked to leave show business, but at a certain time… it just made more sense to me to focus on the store idea. I think my License to Showbiz had expired [laughs]. But all the people I knew, fortunately, loved what I was doing with the store. And Sherman Oaks is Hollywood-adjacent enough that I'd still get all the visits from showrunners, producers, directors and writers that I knew. So I still got to see everybody. Now I'm their comic dealer."
"A huge part of this job is adjusting. There's that old saying that 'writing is rewriting.' Well, I say that ordering is reordering. A huge part of your sales is what you do in reorders."
"I always want the first issues out. Even if we're up to issue #4 or #5, if we still have #1, we need to have that in the rack. We're way more likely to make a sale on a #5 if people can see #1-#4 as well. Otherwise, we don't get a new reader. By that point, we're only selling to the people who are buying that particular title."
"We have this notion that the comic fan as a customer is a superfan who already knows what they want. They have their shopping list; and that's that. But every week, we get new walk-ins who say, 'I've never read a comic, but I want to.' And those are these beautiful, wonderful moments where you're like a matchmaker, and you want to match them up to the right partner, the right book. You don't want to rush them into Watchmen right away if they're not ready for that."
"Ultimately, we're all selling the same thing, right? We all have Batman Rebirth the same day. We all have the new issue of Saga and the new issue of Walking Dead on the same day. We have to do more than just be geographically convenient to our customers. So we have kids' art classes and galleries for local artists, and more. We're always looking to bring something new in."
"For the first time in 13 years, we got our first order of Pokémon cards in. I finally just got tired of people coming in and having to tell them, 'no we don't have those,' and then referring them to another store. Finally, I just said, 'Screw it.' So we have one box on the counter. And they're selling. Another lesson learned."
Click the Gallery below for 13 images!