Ninja Division has been named publisher of Wyvern Gaming titles Cthulhu: A Deck Building Game, and Onami. Both were Kickstarted but have not yet been distributed to trade. Ninja Division Partner and Sales and Marketing Director Deke Stella explained why the company picked up the titles. "We played both of these games at Gen Con and fell in love with them…," he told ICv2. "When we're looking at …third party titles that we want to publish, we're looking for things that help broaden and diversify our catalog both in price point and themes. Both of these games really fit into that idea of continuing to make it so that Ninja Division has a broad catalog that can appeal to all gamers no matter the genre and no matter the play style they like."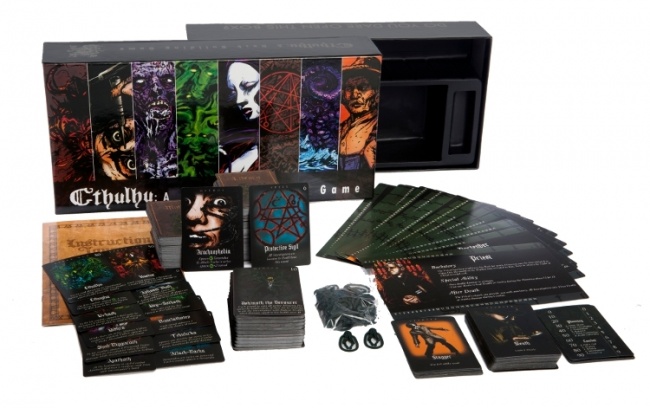 Cthulhu: A Deck Building Game
is a cooperative game designed by Phil Loyer, with art design by Graham Sisk, Rebecca Burk Ellis, and Brandon Beren. For 1 to 6 players, each game includes 12 different Elder Gods, 21 unique Investigators, and hundreds of minions, mythos horrors, and library cards. MSRP is $59.95.
Stella laid out the gameplay. "One of the things that we found very intriguing about the Cthulhu game is that it is a deck builder, but it's a cooperative deck builder, which is pretty rare in deck building," he said. "Basically, you are all working around this central conceit, there are the Elder Gods. At the beginning of the game, you put out one, two, three elder gods depending on how difficult you want it to be and how many players there are. You have to work together in order to stop their threat."
"It's very true to the Cthulhu mythos," he continued. "It has not just your health but you also have to gauge your sanity; your players can go insane. And there's no hard turn order in it. It's not 'I take my turn, then the next player takes their turn.' When it is the players turn, all the players cooperatively figure out what to do and then can play in various orders as they go. That idea was something that was interesting for us in a deck builder. So often in a deck builder, you become insular, almost playing against yourself. We loved the cooperative aspect of it. And they wrapped it up in a really pretty package. The artwork has a very gritty, grainy, very nice Cthulhu look to it. It's really well presented."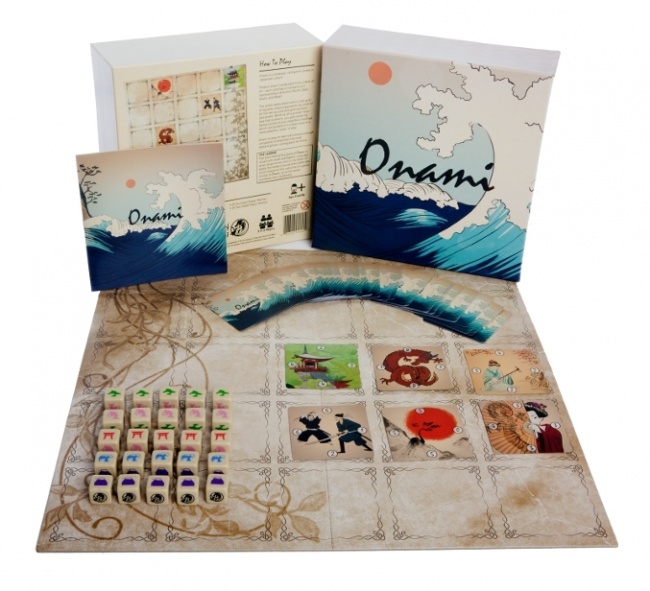 Onami
is a strategic card game, also designed by Loyer, with art by Dazy for Line Art Studios. That art was part of the reason for acquiring the game, Stella said. "Obviously with our anime and Japanese influences within Ninja Division, it immediately grabbed us because it is very steeped in the Japanese classic woodblock and watercolor visual aesthetic."
"Its gameplay is very elegant, simple, and intuitive," Stella explained. "It works on a pretty basic greater than less than mechanic, and it all comes to a strategic placement of piles. What you're trying to do is essentially, by the strength of your piece, you can create ripple effects where you capture territory going around."
Onami will retail for $29.95.
We asked whether the Wyvern games as shipped by Ninja Division would differ from the versions shipped to Kickstarter backers. "No, they're both pretty clean," Stella said. "We'll do the normal little updates of putting logos and stuff like that on, but as far as any sort of substantive changes, no. Both of these games, part of what makes them really nice is their rule systems are actually very simple while still allowing for a good amount of stuff. They did a great job in making nice tight little rule sets."
Cthulhu: A Deck Building Game will ship using existing inventory in Q1 2017. Ninja Division will begin making Onami available through its web store this month, but will not distribute the title to trade until a new printing becomes available in Q2 2017.