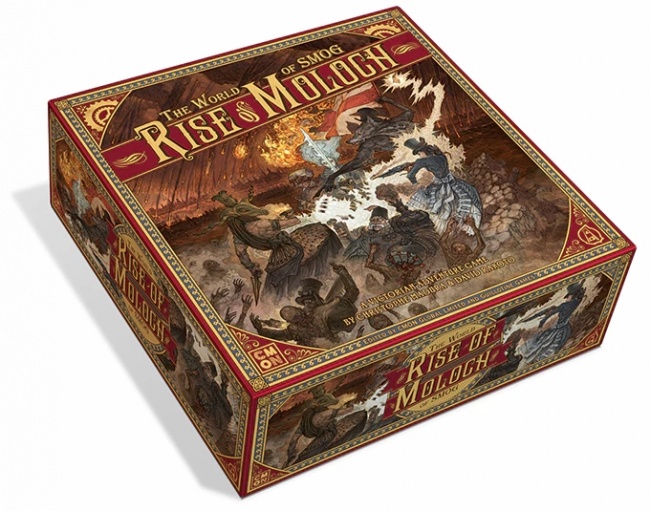 CMON, Limited will release
The World of SMOG: Rise of Moloch,
a new stand-alone steampunk board game set in Panache Animation's
World of Smog
in Q1 2018. The game is currently seeking funding on Kickstarter, and CMON is offering retailers a way to preorder copies directly from the publisher.
CMON lists pre-order directions on its website, where brick and mortar stores in the U.S. and Canada may order increments of 6, 9, or 12 copies of the game, plus all stretch goals. Retailers must make a $100.00 commitment deposit for the bundles, which will match its "Ambassador" pledge level on Kickstarter. The remainder of the balance will be due before shipment. Retailers agree not to breakdown the "Ambassador pledge bundle" and sell the Kickstarter exclusives separately, and not to charge more than $120.00 retail. A signed agreement agreeing to these restrictions will be required before shipment.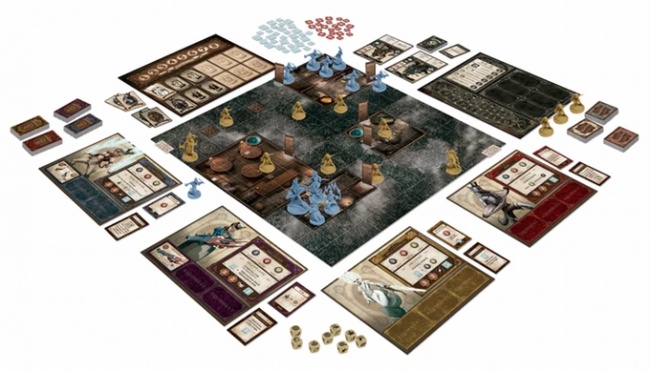 The World of SMOG: Rise of Moloch
is a Victorian adventure board game set in an alternate England where magic and technology coexist. Designed by Christophe Madura and David Rakoto, the game offers the option of playing it as a campaign of six chapters or as solo adventures. One player takes the role of Nemesis, which controls a secret society which plans to install a government of the dead. The rest of the players take the roles of Gentlemen of the Unicorn Club (Abigail, Emma, Drago, Walther, and Major), who cooperate to foil conspiracies that threaten the Crown.
The box contains 63 highly detailed miniatures, 5 heroes' dashboards, 14 villain dashboards, 220+ mini-cards, 5 player-aids, 12 scenery rooms overlays, over 150 cardboard tokens, 1 activation/intermission board, 1 Nemesis board, 1 London fire board, 1 rulebook, 1 campaign book, and 8 custom engraved dice. The game is for 2 – 5 players. The core game will have an MSRP of $100.00.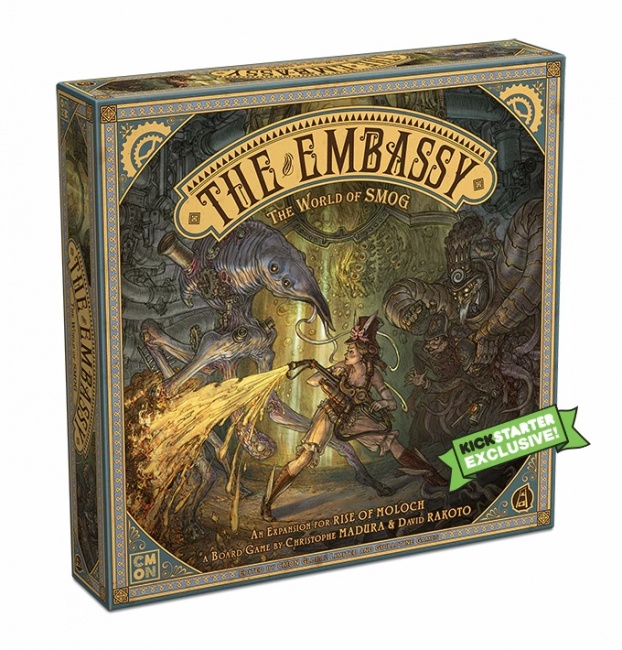 The Kickstarter campaign has raised $576,008 from 4,770 backers ($120.76/ backer average) as of this writing, with 10 days to go. Campaign pledge level exclusives include an alternate hero Emma Swanson mini, a game expansion called
The Embassy
with three more chapter campaigns, more additional figures and activation cards, black dice,
Circus
missions, plastic cog tokens, and a
Reform Club
mission.
CMON released the first World of SMOG game in 2015 (see "'The World of Smog: On Her Majesty's Service'").