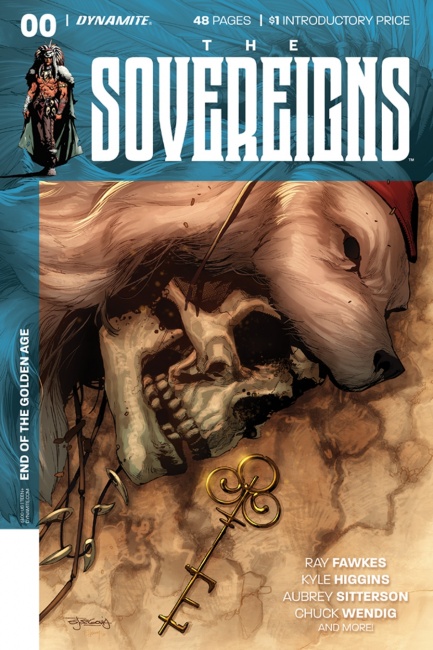 After sharing two cryptic teasers, Dynamite Entertainment announced today it will launch a new epic tale uniting Gold Key heroes Turok, Solar, Magnus, and Doctor Spektor in
The Sovereigns
, debuting on April 5.
The first issue will be written by Ray Fawkes (Wolverines, Robin: Son of Batman), with art by Johnny Desjardins (Justice League, Vampirella Strikes). Additional stories will be included, written by Aubrey Sitterson (Street Fighter X / G.I. Joe), Chuck Wendig (Star Wars: Aftermath, Hyperion), and Kyle Higgins (Mighty Morphin Power Rangers). Cover art will be provided by Stephen Segovia (Titans), with three retailer incentive variant covers provided by Desjardins, Segovia, and Philip Tan. The Sovereigns #0, will be 48 pages, and have an introductory price of $1.00.
Turok, Solar, Magnus and Doctor Spektor have each saved countless lives in hundreds of world-shattering conflicts on their own. Now they'll form a team that must protect the past, present, and future world.
Dynamite acquired the rights to these Gold Key heroes in 2013 (see "Dynamite Reviving Gold Key Heroes in 2014") and has done multiple solo titles and team-ups in the last few years (see "Preview: 'Gold Key: Alliance' TP").
(See all teasers and issue #0 covers in the gallery below!)