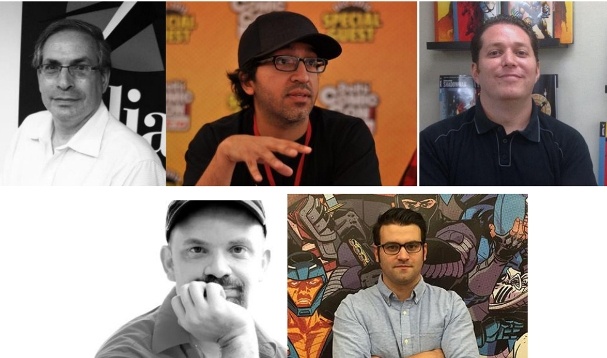 ICv2 recently spoke with Valiant Entertainment's CEO and CCO Dinesh Shamdasani, Publisher Fred Pierce, Editor-in-Chief Warren Simons, Director of Marketing, Communications & Digital Media Hunter Gorinson, and Sales Manager Atom! Freeman. In Part 2 of our two-part interview, we talk about Valiant's core customer targets, media plans, web shorts, and ComicsPRO. In Part 1 of our two-part interview, we talked about the market, Valiant's production for 2017, and acquiring new customers.
You said for this year you're going back down to your core. What is the core Valiant audience for X‑O Manowar? Is that different now from your overall audience, which seems a little broader?
Shamdasani
: It is broader. I think we're very lucky in that we have the original '90s incarnation of Valiant, and we have a tremendous fan base from that period because the awareness was so high.
The whole industry had a spotlight on it, and there were so many fans that were created in that period, and Valiant was at the forefront of that. We have that tremendous fan base.
We have the fan base from the Acclaim era, specifically from the video games as well. Those video games were very successful. We have fans that know
X‑O Manowar
from the video game front.
We have fans now from the 2012 launch.
We have these distinct fan bases. As the guys have mentioned, we work very hard to make all the books accessible, every issue, because we know that every book is someone's first. We want them to be able to fall in love with that book, understand what's happening, then quickly read everything else that we're doing, and become a Valiant fan.
We have these three distinct fan bases. Then we talk internally about the Valiant-curious, the people that have heard about all the awards we've won, how great the books are., they've heard the word‑of‑mouth, and they haven't found the time yet, or the money yet, to jump into something. We're always looking to give them an excuse to try their first Valiant book and convert them.
Pierce:
Also, as the industry has grown, and we go to so many conventions, you'll find that the people walking over to our booth and looking at what we're printing, it's just as much men and women these days because we have so much to offer to everyone.
The industry has expanded. It used to be when you went to a Comic Con it was mainly men. Now it's pretty much 50/50, and we're grabbing a lot of that larger audience.
Shamdasani
: We had a very specific plan in terms of diversity. We're very lucky in that we have a universe that was built in the modern era, essentially in the '90s, and it reflects the society that we now live in more accurately than some of the other big publishers' universes do.
We made a very conscious choice to not go out and beat the drums about diversity for diversity's sake, just to publish great books and have people hopefully find us, see the diversity, and enjoy the diversity for that. I think that's happened.
Faith
is a great example of that.
We have a very diverse audience now, and an audience, I think, that knows we don't pander to them and we don't manufacture diversity. We just tell great stories, and if that great story involves diversity, great. If not, that's cool. We'll just make a great story.
Let's talk a little bit about your media plans. Last we heard, Bloodshot and Harbinger were the first two movies you were working on. Has either got a script approved? Any progress there?
Shamdasani
: Yes, they're both moving forward very nicely. We have Eric Heisserer, as Hunter mentioned, who is running
Secret Weapons
for us. He actually came from the work that he did with us on
Harbinger
and
Bloodshot
. It's nice to have a writer of that caliber associated with this project. They're big at Sony. We have directors on both, and we're moving steadily towards production.
It's to make sure that, obviously, the films are very strong and they match the quality of what we're doing in publishing. Sony has been very, very good and very collaborative working with us, making sure we're as much in the process as anybody. We're all working together to make sure those films are as strong as they can be.
We don't make a lot of announcements on the media side. We have
Archer & Armstrong
and
Quantum and Woody
,
X‑O Manowar, Ninjak
, and many of the other characters in various aggressive states of that process.
We're doing what we do in publishing. We're going to build it. We're going to make it good. Then when we're ready to put it out into the market, to put it into production, we'll announce it and we'll give all the details out to the fans.
At New York Comic Con, you talked about doing web shorts as sort of IP builders, promotional vehicles. You announced your first one. Any news on the status of that?
Gorinson:
Ninjak vs the Valiant Universe
is a live‑action project. I believe we're the first major independent publisher to produce a live‑action web series in that vein. We saw a massive response at New York Comic Con.
We had a massive unveiling with a bunch of the stars from the project including Michael Rowe from
Arrow
, who is playing Ninjak, Jason David Frank from
Power Rangers
, who is playing Bloodshot, Derek Theler from ABC's
Baby Daddy
, who is playing X‑O Manowar, and literally five or six other major cast members who are playing heroes from across the Valiant universe.
Shamdasani
: I believe we're the only publisher that's ever attempted this, and one of only two or three entertainment companies to ever do it. We like to be on the forefront of digital. We think this is where everything is going next for a certain segment of the audience.
Ninjak vs
is essentially a promotional tool. It's a live‑action show that is put together by a team called Bat in the Sun, that have tremendous talent when it comes to fight choreography and special effects. The fight scenes are as strong as anything you've seen in major feature film, largely because they use the same stunt coordinators, stunt people, and visual effects people that you see in all the big Hollywood superhero films.
For us it's very much about bringing a product to an audience that's online, that's consuming content digitally, so that they can get to know our characters, fall in love with our characters, and then jump into the books that we publish in the Direct Market. There will be sizable promotion alongside
Ninjak vs
, pushing the viewers into retail stores and to the books and the trades.
In addition to that, we have a number of other projects that we've built on the digital front. It's actually been something we've been very aggressive about over the last 12 months. We'll be doing a number of announcements this convention season starting in Emerald City, talking about out other projects with some of the other major players in this space.
Ninjak vs
is the first foray, and dare I say, maybe the smallest one that we've built, despite being the biggest one that the comic industry has seen. We're being very ambitious here. We'll be releasing the details over the course of the next several months, in addition to live action.
Did you say when that was going to be out, Ninjak vs The Valiant Universe?
Shamdasani
: We have one internally, and we're looking very good to hit that. It's coming sooner than I think people are expecting, but we want to make sure we can maintain the quality that we've built so far before we publicly announce a release date, to give ourselves a little bit of wiggle room if we need it.
Did you say you are going to do animated in addition to live action?
Shamdasani
: Yes, everything that we're doing, the part that we put on the digital space, the shows, will run the gamut, everything from live action to animation. We've got projects in various stages on all those fronts, many of which are very, very pronounced in where they are. We'll be announcing those this year.
Anything else that our readers need to know about what's going on at Valiant?
Pierce:
We love ComicsPRO. It gives us a chance to listen to what the retailers have to say. ComicsPRO is among the most professional retailers in the industry. We actually go there as much to listen to what the retailers are telling us about how the industry is doing, how they're feeling, and how they feel about us.
We do our best to jazz them up about what we're doing. We'll let them know what's going on with our publishing schedule over the next few months. We always have good prizes for them. We always have good things for them to bring back to their fans and to the Valiant fans.
We'll give them introductory stuff to some of the publishing that we're doing going forward, so it will be easier for them to sell. The second that they have our product in our hands and they read it, we know that they'll get excited about selling it. That's what we do. Then I like watching Hunter and Atom! speak to the retailers on the panel.
Gorinson:
I would just add that, in addition to being a chance to rub elbows and get the ear of some of the best retailers in the industry, we will also be unveiling a lot of pieces of big news.
Pierce:
Understand, a lot of the new ideas we have on how to promote come from speaking to the retailers when they tell us, "How come nobody does this? How come nobody does that?" We hope within the next few months after they tell us that, we're doing it.
Shamdasani
: ComicsPRO is the most important event in our calendar. More important than New York Comic Con or San Diego Comic-Con. Literally the day that the ComicsPRO ends, we take a day off, and the very next day we start planning for the next ComicsPRO.
This year will be, as we always try to do, our biggest year yet. We're bringing a ton for the retailers to see, working copies of the books that we have that will be just for them to take a look at and get excited about. From that to calendars, to POP, to physical items, to events, to experiences, the whole works.
We'll be announcing, as Hunter mentioned, a number of things there, including an initiative to push consumers into retail stores and to help sell through.

Click here to go back to Part 1.