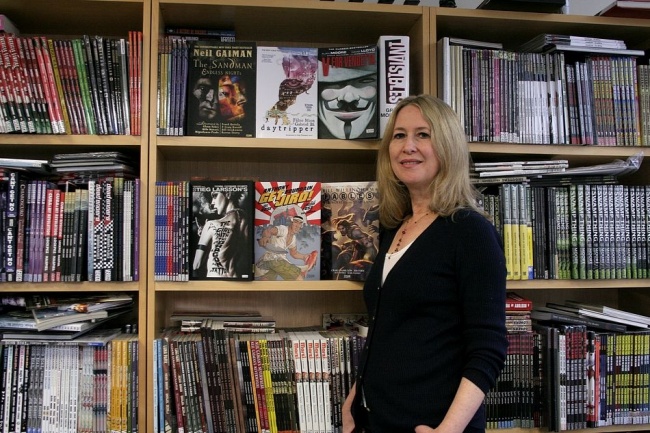 At the ComicsPRO Annual Membership Meeting, Dark Horse Comics announced Vertigo founding editor Karen Berger would acquire, edit, and oversee the company's new creator-owned line, Berger Books.
The announcement was made after Berger was named winner of the ComicsPRO Industry Appreciation Award earlier today. "Karen is someone I've always respected and admired. She's a visionary thinker and one of the most highly regarded individuals in the comic book industry," said Dark Horse President and Publisher Mike Richardson. "Her fiercely independent streak and forward-looking storytelling instincts are a perfect match for Dark Horse Comics. We'll have more news in the near future, but today we're thrilled to announce that Karen Berger and Berger Books have found the perfect home at Dark Horse Comics."
"I'm very fired up about being back in the game in a big way, and to be producing this new line with top, diverse creative talent and exciting, original new voices," said Berger. ""It's great to be working with a company that has such a rich history of publishing scores of many incredible books by some of the best writers and artists in comics."
Berger left DC in 2013, after nearly 20 years overseeing the Vertigo imprint (see "Karen Berger Leaving Vertigo"). Titles from her portfolio of over 300 properties include The Sandman, Hellblazer, Fables, V for Vendetta, Preacher, 100 Bullets, Y – The Last Man, Get Jiro, and Girl with the Dragon Tattoo.
After a three-year absence from comics, Image announced she would be editing Surgeon X (see "Karen Berger Returns to Comics"). Last fall she spoke at ICv2's Insider Talks at New York Comic Con (see "Karen Berger to Present ICv2 Insider Talk").
Berger will work as editor of Berger Books from her home on the East Coast. Berger Books will include both the Berger Books and Dark Horse comics logos. Berger Books will be distributed by Penguin Random House, Dark Horse's current book distribution partner (see "Dark Horse Moves to Random House Publisher Services").