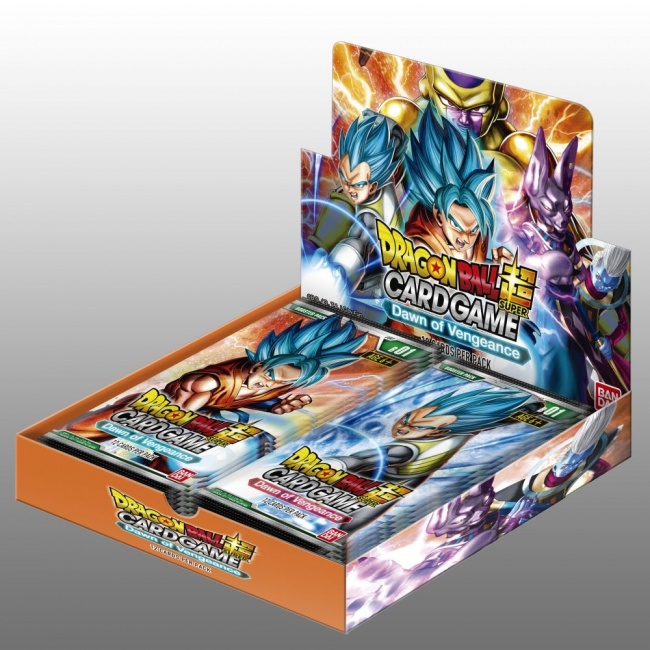 Japan's Bandai Co. Ltd. Card Business Department will launch a trading card game based on the anime
Dragon Ball Super.
Dragon Ball Super Card Game
will debut in July.
The series will feature cards with original illustrations of new characters from the anime series, including Super Saiyan God, Super Saiyan Son Guku, and Golden Frieza. Returning favorites from past
Dragon Ball
series including Vegeta, Piccola, and Broly will also be featured.
The
Starter Decks
will contain 50 cards and I Leader Card. Players construct their deck around the leader Card and battle an opponent. The goal is to rese the opponent's life to 0. When players get low on life, they can flip their Leader Card over, to gain the characters "awaken" skill. Players can also use the "Combo" system to bring cards from the field or their hand straight into combat. The game includes three types of cards: Battle Cars, Extra Cards, and Leader Cards. The set contains 17 kinds of cards (9 Common, 3 Uncommon, 5 Rare- exclusive to Starter Deck). The
DBS Card Game Starter Decks
will come with 51 cards, a playsheet, and a rule manual. MSRP is $11.99 each. Decks are packed 6 per display, with 8 boxes per case.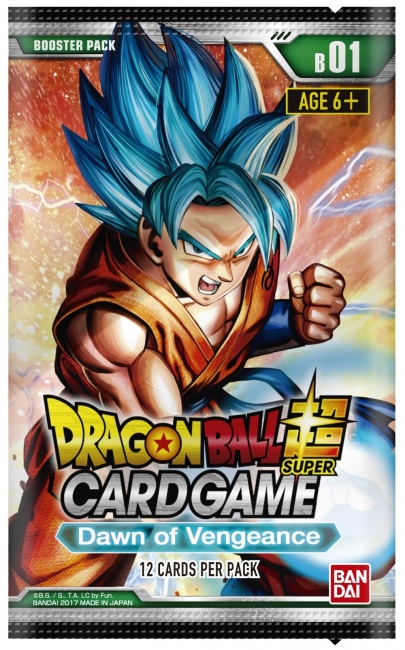 The
Dragon Ball Super Card Game
Booster Packs
are sold in 12-card packs. The set includes 114 kinds of cards (60 Common, 30 Uncommon, 12 Rare, 8 Super Rare, 4 Premium Rare). Each pack includes 8 Commons, 3 Uncommons, 1 Rare or higher. MSRP is $3.99 per pack. The packs are packed 24 per display, and 12 displays per case.
A
Dragon Ball Super Card Game Special Pack Set
will also be available, which includes 4
Booster Packs
and 1 promo card, as well as a playsheet and rule manual. There are 6 sets per display box, and 48 boxes per case.
"We want to support the card game user firmly," a Bandai representative told ICv2. "So, to experience the game before release, we've prepared a launch kit, which includes half-decks." The
Launch
Kits will include 20 sets of half-decks (25 cards + 1 leader card).
"After the official release, we will also provide solid support for tournaments at shops with tournament kits," he added. More information will be released at the GAMA Trade Show in March.
Bandai is also releasing the new
Zombie World Order
trading card game in the U.S. in April (see "
Japanese Zombies Invade the U.S.
").
See multiple promotional images in the gallery below!