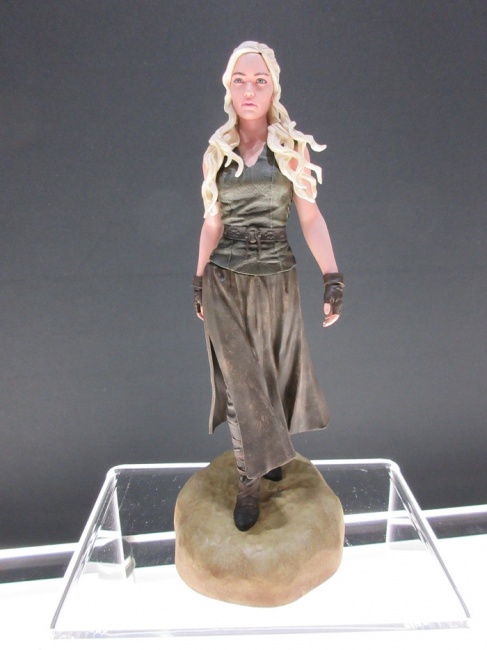 At Toy Fair, Dark Horse Deluxe premiered many new licensed figures, polyresin statues, busts, ships, and more for for
Game of Thrones, The Witcher, Mass Effect,
and
Halo.
The company also announced a new Director of Product Development.
Vice president of Product Development David Scroggy told ICv2 the Game of Thrones line of figures will be reinvented this year. "You're going to see most of the 28 backlist figures that we've done are in varying degrees of going away, and they'll all be gone soon," he said. "There may be a couple favorites that we'll keep a few of, like Bran, and Hodor."
The new versions of the core characters will be brand new sculpts, and will be packaged in radically different packaging. Daenerys and Melisandre will be the first two figures, with new editions of Jon Snow, Tyrion, and Arya Stark to follow. New polyresin busts, house sigil magnets, and cast metal Hodor doorstop are also planned.
Dark Horse began releasing products based on The Witcher last fall (see "Dark Horse Announces 'The Witcher' Product Line"). Shot glasses have been released, but the new Pint Glass Set was on display for the first time.
A new large scale, limited edition Halo – Infinity ship was on display. The UNSC Infinity 18-inch ship replica will arrive in November 2017. Two new UNSC Vultures 6-inch replicas will arrive in July.
For Mass Effect – Andromeda, Dark Horse will be producing an Andromeda Tempest ship replica. The replica will release a few months after the game (which releases March 1). "Then at some point towards the end of the year, with a little more ambition, we're going to make a giant one of this also as a limited edition. It'll be a lot more happening with the base, including a secondary vehicle," Scroggy said.
A Legend of Zelda: Breath of the Wild Link Figure was also on display, but no details were availible on release.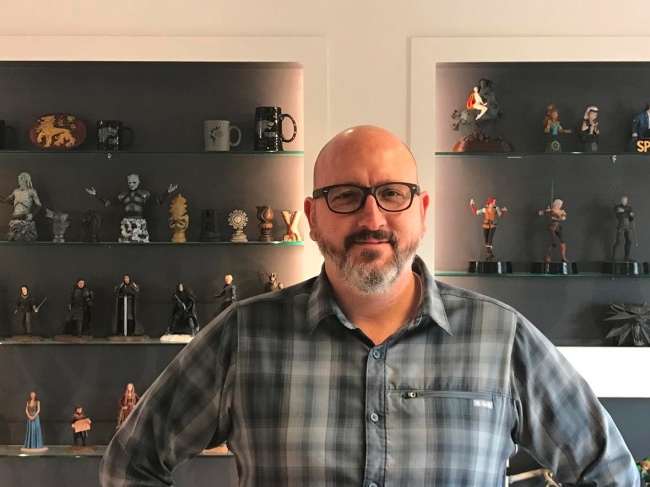 On a related note, just ahead of Toy Fair, Dark Horse announced the promotion of Chris Gaslin to Director of Product Development. Gaslin will be responsible for overseeing the Product Development department in project management, scheduling, budgeting, sourcing and creating new products.
Gaslin has worked for Dark Horse for nearly 11 years, starting out as a member of the sales department. He later joined the Product Development department as a manager.
"As Dark Horse's product development efforts have grown and matured over the years, so has Chris Gaslin's skill and expertise," said Scroggy, in the announcement. "His successful supervision of important new collectible lines like The Witcher and Halo, as well as his leadership in the management and coordination of ongoing projects such as Game of Thrones, has been a big part of what keeps Dark Horse Deluxe out in front in the marketplace."
See images in the gallery below!