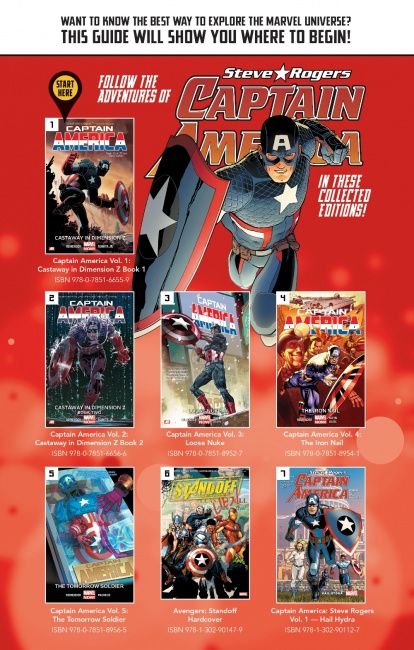 Retailers field frequent questions from readers about what they should read next about their new favorite character. With series titles and numbering constantly changing, it's hard to keep up. Now Marvel is addressing that concern with new Marvel Reading Chronologies.
"'Where do I start?' and 'What do I read next?' are easily our most frequently asked questions from fans," Marvel SVP Sales & Marketing David Gabriel told ICv2. "The new Marvel Reading Chronologies are a great answer to both. Printed on the inside front and back covers of collected editions and available online, they're engineered to give Marvel fans clear direction on what to catch up on or where to continue their adventure."
The informational pages will premiere in upcoming Captain America: Steve Rogers and Captain America: Sam Wilson trade paperbacks. Marvel plans to post them digitally on sites like Amazon. Marvel also just completed reading lists for Black Widow and Deadpool. The publisher is currently working on reading chronologies for Hawkeye, Jessica Jones, Amazing Spider-Man, Spider-Gwen, Miles Morales, Moon Knight, Thor, Old Man Logan, Avengers, Inhumans, Star-Lord and Star Wars.
Click the Gallery below for the first four Marvel Reading Chronologies!