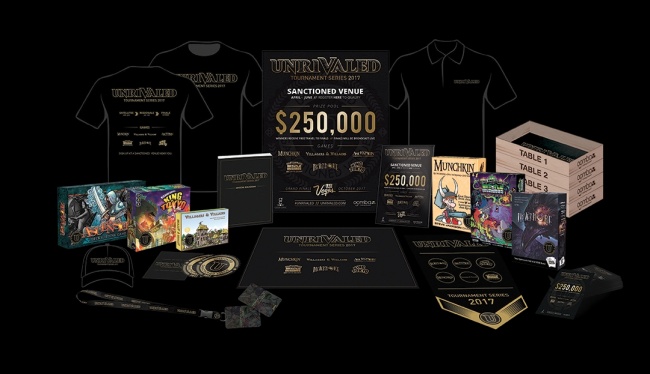 Oomba, Inc. has announced the Unrivaled Tournament Series, a nationwide hobby game tournament which begins with competitions at Friendly Local Game Stores (FLGS) and progresses to a national championship to be held in Las Vegas in October. Games in the competition include
Munchkin, Ascension: Deckbuilding Game, King of Tokyo, Epic Spell Wars of the Battle Wizards - Rumble at Castle Tentakill, Nevermore,
and
Villagers & Villains.
(Click images for larger view.)
Retailers can sign up to host officially sanctioned events at the Unrivaled website. For a $250 membership fee, the store will receive a tournament kit which includes copies of all six games in the tournament series, rules, and bonuses including 4 dice trays, Ultra PRO player mats, t-shirts, posters, window clings, posters and more. Each store location requires a separate membership.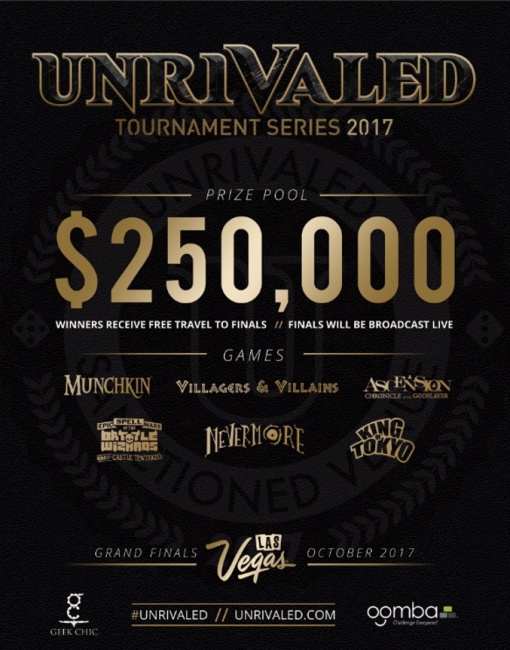 From April to June, retailers will host Satellite tournaments where the winner of each event will receive an invitation to the Regionals, where they have a chance to win a trip to Las Vegas and a prize package including $10,000. The winners of the Grand Finals, held in October in Las Vegas, will be crowned National Grand Champion, and receive a prize package that includes $10,000, with an additional $10,000 going to the winner's official sanctioned venue (the FLGS where the winner started).
The Unrivaled Tournament Series is sponsored by partners including Geek Chic, Indie Game Alliance, Southern Hobby Supply, Southwest Airlines, Momenti Spirited Ice Creams, G Fuel energy drink, Steve Jackson Games, Stone Blade Entertainment, Cryptozoic Entertainment, Iello, Studio 9 Incorporated, and Smirk & Dagger Games.
Oomba Inc. is a social media company which has created an interactive social network for running tournaments, leagues and teams for games and sports. They offer a custom configurable tournament management system which handles event organizers' registration, scoring, bracket seeding and results calculation. The company also offers social networking services which integrate online feeds and chatting, and access to a live and on-demand video broadcasting platform built into its website for webcasting events.
The company was co-founded by CEO, founder of Planetwide Games and Tremor Entertainment Michael Williams; and Co-Founder of Reality Gap, former president of Buzzkill, and award winning actor and producer Dylan Hundley.
Note: On April 18, 2017, this article was updated to remove Nolan Bushnell from the list of founders.