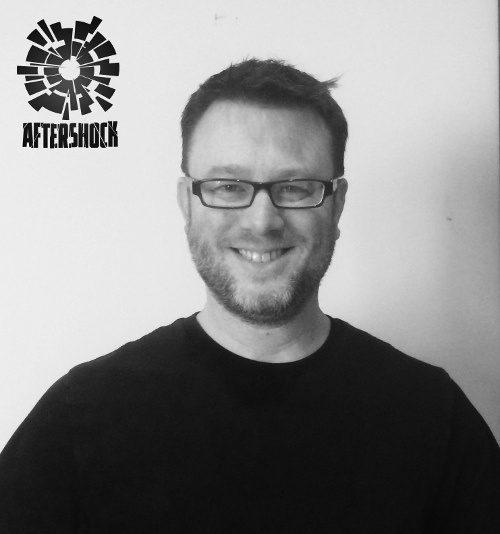 In Business 3x3, a business retailer or executive will share their experience with three things they've done right, three things they've done wrong, and what else they've learned along the way.
Mike Marts circled the block many times before he finally parked at the place he thinks he can call home—Aftershock Comics.
Marts is one of the most experienced and well-traveled editors in comics. His career started 24 years ago, and has included three tours of duty at Marvel, one at DC Comics, and stints at Wizard Entertainment and Acclaim Comics as well.
In April, 2015, Marts helped found Aftershock Comics, and became the company's first editor in chief. Aftershock was not your traditional startup. They led off with a talent roster that included Brian Azzarello, Marguerite Bennett, Amanda Conner, Warren Ellis, Garth Ennis, Paul Jenkins, Jimmy Palmiotti and more. Buzz has been big, sales have been respectable, and the beat goes on— Aftershock recently landed John Layman and Sam Kieth to do a new book,
Eleanor and the Egret
.
In his many stops and at his new home, Marts has learned a lot about the comics business.
THE GOOD
ALWAYS EXPAND YOUR ROLODEX
Marts started at Marvel in 1993, but left in 1996 as the company was hemorrhaging employees in the wake of an industry collapse. He landed a gig at Wizard Entertainment in 1997, where a seminal shift occurred.
"That really allowed me to expand my Rolodex," Marts says. "I got to meet so many different creators and people from other companies outside Marvel. I was going to conventions and building new relationships all the time. That alone was a good reason to do that job."
And a body in motion tends to stay in motion. The connections that Marts and Aftershock Publisher Joe Pruett has provided the launch for Aftershock.
"I've been an editor in the business for about 20 years, and Joe has been at it for even longer as an editor and a publisher. Both of our address books were pretty large, and pretty different. When combined, they were kind of a powerhouse," Marts says. "We built on the relationships we had forged over the years. Pretty much everyone in the lineup, be it Ennis, Ellis, Bennett, and whoever, were people that we were close to and had strong relationships with."
LAND ON YOUR FEET AND GO!
Remember, that 1996-97-and-going-forward time period was a tumultuous one in comics. Marts learned to move fast when the sands shifted.
"I was gone from Wizard for one day, and I got a call from Jimmy Palmiotti who told me there was a job open at Acclaim Comics, where Fabian Nicieza from my Marvel days was the editor in chief," Marts recalls. "So I gave Fabian a call and had an interview the next day. "
Marts landed a job at a time when… Acclaim was sinking.
"Fabian said we may not be in this building in six months; this company may not be here in six months," Marts says. "Sure enough, Acclaim Entertainment, the parent company, said they were closing the New York comics office, reducing the staff to seven people, and moving the seven remaining to Long Island."
Marts made the move, commuting form New Jersey to Long Island.
"But hey, I was still editing comics," he says. "I wanted deeply to stay in the industry."
GROW YOUR RESPONSIBILITIES
The slimmed-down Acclaim experience had a silver lining. But it started with more storm clouds.
"A lot of those seven people left, and for a while, it was just me and two other guys running the show," Marts says. But being thrown in the deep end of the pool taught Marts new ways to swim.
"It was a learning experience for sure," he laughs. "We were doing the editing, the marketing work, the publicity and more, so I got to wear a lot of different hats. It was actually really good, and taught me a lot. It taught me more responsibilities and increased my desire to really build something, now that I knew a bit more about how all the pieces fit together."
THE BAD
KNOW WHEN TO DITCH A DREAM
Dropping that brass ring when it's in your hand is tough to do. But Marts had to do it with his first gig.
"When I started at Marvel in 1993, there was a culling seemingly every year," he says. "In 1993, the editorial staff was about 60 people. A year and a half later, it was about 40. Then a year and a half after that, it was 18. I think the only reason they kept me around was that I didn't make much money, and I did my job."
The remaining staff was going through mental anguish. Marts felt it as well.
"Being a 20-something-year-old and seeing this happen at your dream job was an eye-opener," he says. "I saw so many friends, mentors, and people I looked up to get fired. It was devastating. So in 1996, I voluntarily left and finally finished my degree."
KNOW YOUR ROLE
Marts had editorial experience and had just completed his journalism degree when he took that Wizard job back in 1997. But he soon found out that his skill set didn't match the job he took.
"I was really desperate to get back into the industry," he says. "I was brought on to Wizard as a promotions and publicity manager. It was a big opportunity at the time, because
Wizard
was a very hot publication which in many ways really dictated the flow of the industry, and… I soon discovered that Mike Marts was not good at promotions and publicity. And the rest of the company figured that out as well. My tenure at Wizard was a short one, only about nine months."
In retrospect, Marts says he "wasn't aware enough of my own strengths and weakness. I was hungry enough that I thought I could learn anything and take anything on, and… certainly I did learn things, but certainly not at the pace I needed to. The job required more. That said, I'm glad I had the experiences. Learning one's strengths and weakness is something everyone really has to do, and I didn't do it well enough back then."
EMBRACE THE TALENT WHEN ITS THERE
Marts has very good relationships with a wide breadth of comic talent. But he feels he missed the boat on one guy.
"Tom King is a great writer who is at the top of his game right now, writing
Batman
and doing a great job of it," Marts says. "Tom is also someone who I met with several times when I was at DC, and he would pitch ideas. I would usually say that he was pretty close to what we were looking for, but… I never took that plunge."
And… Marts regrets it.
"Seeing where he is right now, I really wish I would have!" he laughs. "I wish I could have found the right project where we could have worked together, but it never came to pass while I was there. Maybe sometime soon!"
AND WHAT ELSE?
"In 1991 or so, I was in college, working at a comic book store trying to learn the business. My desire then was to be a writer for Marvel Comics. I basically wanted to be Chris Claremont. At that point in time, I would submit about one story idea a week to Marvel, and I would get the polite rejection letter. I still have those all in a folder somewhere."
"Eventually I became friends with [inker] Mark McKenna, who was a customer at the store. Mark said he'd be happy to hand-deliver some story ideas and then I started getting some direct feedback from some editors—Fabian Nicieza, Ralph Macchio. This opened the door for me. This sort of crystalized what editors did, and I started to change my thoughts of what I might want to do—to be behind the scenes, construct these books, coach the talent, more than actually being the talent.
"In 1993, I scored an editorial internship at Marvel with [editor] Nel Yomtov. I interned for him for two semesters, six months total. An assistant editor spot opened up with him, and I applied for it. He had some concerns, because I still had one semester of college to go, but I promised him I'd finish my degree nights and weekends. He checked it out with Tom DeFalco, the editor-in-chief, and DeFalco said, 'That f---ing kid better finish college!,' but he gave it his blessing. Nel hired me and I became an assistant editor."
"Starting with my second run at Marvel on the X-Men group and then totally refining at DC with the Bat-books, I started working on building the right staff to work with you and support you. I think I've been able to recognize people who have the right attitude and are in it for
making comics
and not for any other reason."
"I want to bring in people who bring something new to the table, but still have an overall vision that's close enough to your own. That's something that's really important."
"People can only do their job well if they know what's going on. And that relates to everything—the assets, the books, the talent. I'm constantly checking in to make sure I know where things are at any point in time, and I make sure my staff knows as well."
"Building a line, and not just eight books that have 'Bat-' in front of them, is important. Create books that have a family feel where they can grow and develop independently, but also feel like they're in the same universe and can play off one another. I think walking that line is something that the modern comic book audience enjoys."