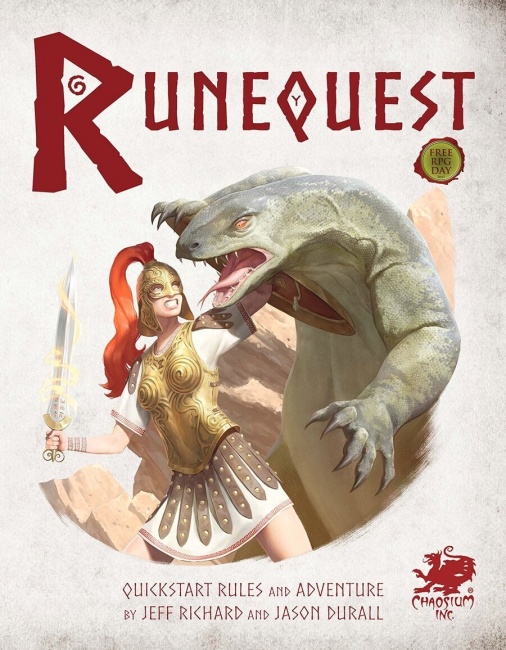 One of the earliest roleplaying games is about to be resurrected once again, as Chaosium prepares to launch
RuneQuest: Roleplaying in Glorantha
later this year. The first title in the new line, the
RuneQuest Quickstart
will release on July 1, with the main books scheduled for December.
RuneQuest was first published in 1978, quickly building a following and growing to be the second best-selling roleplaying game at its height. Over the years, it has spawned a series of new editions, passing hands through a number of publishers. Now it has returned to Chaosium, its original publisher, for a new edition that will be called RuneQuest: Roleplaying in Glorantha.
Chaosium's creative director Jeff Richard stated the reason behind the name was "fans had been referring to the new rules variously as 'RQ4' and 'RQ7.' But our new game is simply not a layer atop the Avalon Hill edition (RQ3) or the Mongoose variants that came after that. Nor is it built from the version Design Mechanism produced under license (RQ6). So, rather than try to give the new edition a number, calling it 'RQG' neatly avoids any confusion."
Citing delays that would result from funding the game through Kickstarter, Chaosium's president Rick Meints stated "If we Kickstarted the new RQ, the campaign wouldn't be able to be launched until September at the earliest, and if there had been stretch goals the first books would probably not be out until the middle of 2018. In our new timeline, we'll have three RQG titles out by the end of the year."
The three main books for the new game—the core rules, a bestiary of the world of Glorantha, and a book of scenarios—are all expected to release around Christmas this year, but an abbreviated version of the game called RuneQuest Quickstart will be available starting July 1. Chaosium plans to support the new line with six new releases each year, spaced about two months apart.
RuneQuest: Roleplaying in Glorantha is built upon the same framework as RuneQuest 2nd Edition, which was originally published in 1980. As such, it will be fully compatible with the RuneQuest Classic line as well as the updated reprints of 2nd Edition materials recently published by Chaosium (see "Classic Fantasy RPG 'RuneQuest' Returns"). The company is pulling in a lot of star power for the new edition, touting material written by industry veterans Steve Perrin (RuneQuest), Ken Rolston (The Elder Scrolls III: Marrowwind), Chris Klug (DragonQuest), and Greg Stafford (RuneQuest).
Chaosium has already enjoyed success reviving its classic games, with the 7th Edition of its Lovecraftian horror RPG Call of Cthulhu ranking fifth on ICv2's Top 5 Bestselling RPG list as of last fall (see "Top 5 Roleplaying Games--Fall 2016").