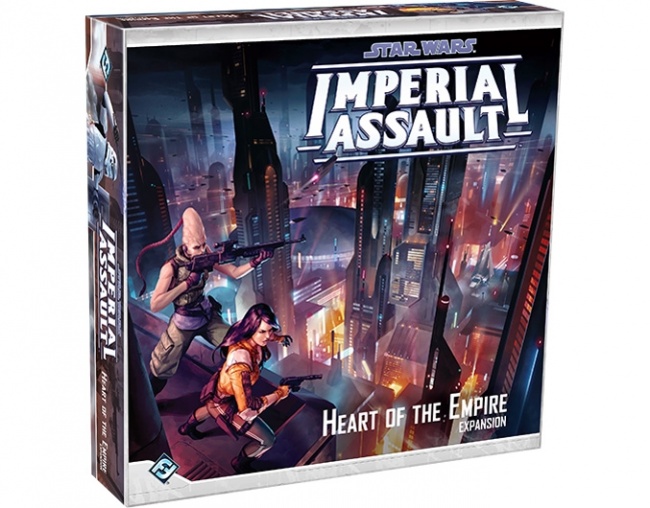 The tactical
Star Wars
adventure game
Imperial Assault
will receive four new expansions from Fantasy Flight Games in the third quarter: The
Heart of the Empire Expansion
, the
Maul
and
Emperor Palpatine
Villain Packs
, and the
Ahsoka Tano Ally Pack
.
Set in the teeming capital of the Empire, Coruscant, the Heart of the Empire Expansion offers new scenarios and playing pieces for playing games in a multi-layered city world. A complete campaign featuring a three-way race for a long-lost Jedi artifact pits the Rebellion against the Emperor Palpatine and the former Sith warrior Maul.
In the expansion are three new rebel heroes and 13 other models, including a large AT-DP walker, Sentry Droids, and Imperial Riot Troopers. Dozens of map tiles showing scenes from the city and 130 new game cards round out the set. Heart of the Empire can be used in both campaign and skirmish games, and includes rules for four-sided skirmish battles in both team-play and free-for-all formats. MSRP is $59.95.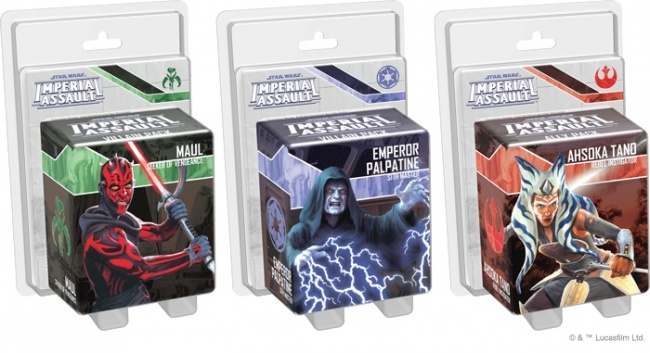 Heart of the Empire
games can be enhanced with the three new figure packs also being released in Q3:
Joining the independent Mercenary faction, the Maul Villain Pack presents the former apprentice to Darth Sidious, now seeking revenge and trying to regain his lost power. This pack includes a Maul figure and the cards needed to use him in the game. MSRP is $9.95.
The Emperor Palpatine Villain Pack features the Imperial emperor himself, complete with his manipulative abilities and powerful force lightning. This pack includes a Palpatine figure and associated cards. MSRP is $9.95.
The heroes also get some help with the Ahsoka Tano Ally Pack, which includes the former Jedi student turned independent Force user. With her twin lightsabers, Tano is an effective fighter, who can use her Spy abilities to help thwart the Emperor's plans. Includes Ahsoka Tano figure and game cards. MSRP is $9.95.
See the gallery for images of the components from all three figure packs.
These new releases follow a trio of droid-themed figure packs released earlier this year (see "Droid-Themed Figure Expansions join 'Imperial Assault'").
Imperial Assault sits at the #8 spot on ICv2's most recent list of top board games (see "Top 10 Hobby Channel Board Games--Fall 2016").