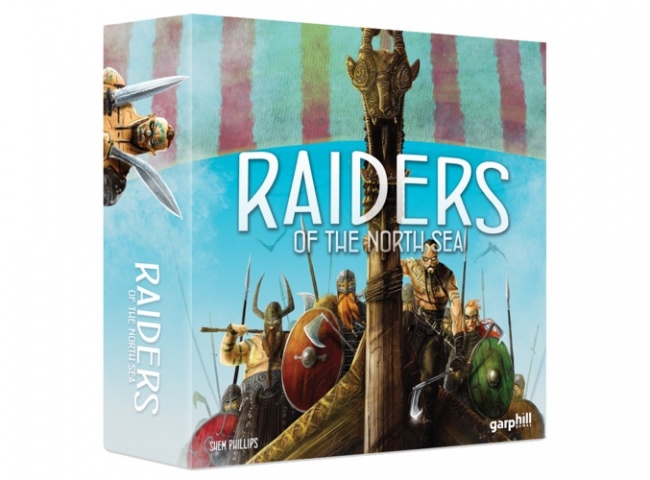 The just-announced nominee for Germany's coveted
Kennerspiel des Jahres
award,
Raiders of the North Sea
, will be produced in an English language version by Renegade Game Studios later this year.
Originally produced in New Zealand by Garphill Games, Raiders of the North Sea is a game about Viking plunderers during the late Middle Ages. Players must crew and provision their longships and send them to raid unsuspecting villages for loot and glory. The player who can best impress the Chieftain (by collecting victory points) will be the winner.
Raiders of the North Sea was created by Shem Phillips (Bethel Woods, Flee the Scene). The game includes 1 game board, 75 cards, 16 offering tiles, 12 score markers, 174 tokens, 2 averaging dice, and a cloth bag. It is intended for 2 to 4 players, ages 12 and up, and takes a little more than an hour to play. MSRP has not yet been announced.
Renegade will release Raiders of the North Sea late this summer. The company will also produce the game's expansions, which are scheduled for the fall.
Now in its seventh year, the Kennerspiel des Jahres (or "Enthusiast Game of the Year") is awarded by the same group that awards the better-known Spiel des Jahres. The Kennerspiel is awarded to a heavier "gamers' game" than the more family-oriented Spiel des Jahres. See "2017 'Spiel des Jahres' Nominations" for a complete list of this year's nominees.