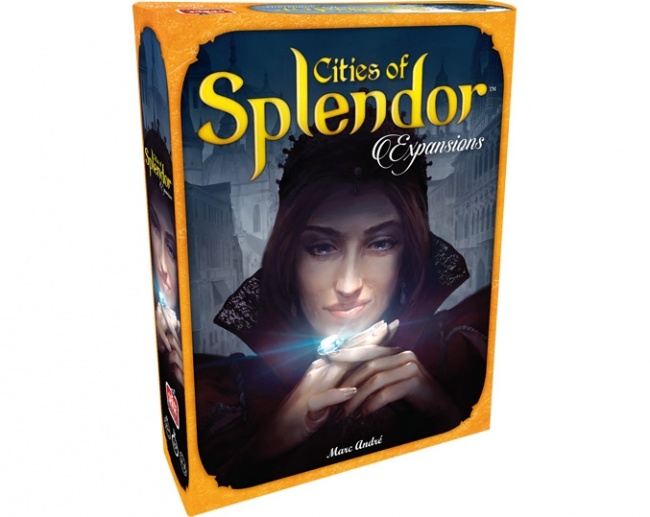 Space Cowboys' highly-regarded game of gem trading will add a full expansion when Asmodee releases the
Cities of Splendor Expansions
boxed set at Gen Con.
Cities of Splendor offers up four expansion modules in one boxed set, providing a variety of new ways to play the game:
In The Cities, players no longer pursue patron nobles. Instead, double-sided city tiles provide new goals for them to achieve. Like the nobles, a specific assortment of gems are required to claim a city tile. But as an added challenge, a player must claim a city tile in order to win the game.
The Trading Posts
module adds the "Route to the Orient" board, depicting the dangerous overland journey to Asia. Players can earn special abilities on the board by collecting the required development cards, providing an alternative way for player to build their "engine" during the game.
The Orient adds 30 new development cards to the game, representing resources located in the Far East. Acquired much like regular development cards, these new cards provide new and more varying abilities for those who acquire them.
Lastly, The Strongholds adds new stronghold pawns to the game and creates a new way for players to interact. Strongholds can be used to reserve development cards, and if a player can place enough of them on the same card, they can acquire it by conquest.
The Cities of Splendor Expansions was designed by Marc Andre, the creator of Splendor. It requires the base game to play. MSRP is $39.99.
Since its release in 2014, Splendor has been a critical and commercial success. It was nominated for the coveted Spiel des Jahres award (see "2014 'Spiel des Jahres' Nominations") and got the nod for "Best Card Game" from the Origins Awards (see "2015 Origins Award Winners"). The game continued to be a top 10 hit on ICv2's list of best-selling card and dice games as recently as spring 2016 (see "Top 10 Hobby Channel Card/Dice Games—Spring 2016").